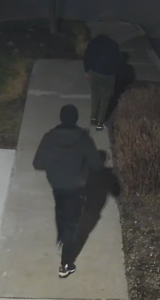 Officers from the Caledon Detachment of the Ontario Provincial Police (OPP) are requesting the public's assistance in an ongoing arson investigation.
On April 29, 2022, at approximately 11:52 p.m., an officer conducting a general patrol in the Bolton area observed a large fire. Two large trucks were located fully engulfed in flames at a business on Simpson Road. It was later determined that four vehicles were damaged by the fire; two of the vehicles' cab areas had been completely consumed.
Caledon Fire and Emergency Services and OPP's Forensic Identification Services were also engaged in the investigation.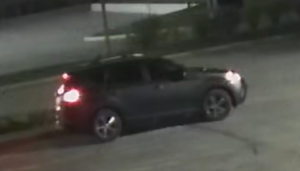 The investigation is ongoing. Police are seeking the public's assistance in identifying two suspects. The attached surveillance photographs have been obtained. The suspect vehicle is believed to be a 2016-2018 Toyota RAV4 or RAV4 Hybrid. The front right bumper may be pulled away slightly. Anyone with information is asked to contact Caledon OPP at 905-284-2241 or toll-free at 1-888-310-1122. You can also provide information anonymously by contacting Peel Crime Stoppers at 1-800-222-TIPS (8477) or online at www.peelcrimestroppers.ca. When you contact Crime Stoppers, you stay anonymous, you never have to testify, and you could receive a cash reward of up to $2,000 upon an arrest.
The post Caledon OPP Investigating Arson on Simpson Road appeared first on Just Sayin' Caledon.