Editor's note: This article originally appeared in our sister publication Just Sayin' Georgian Bay and was contributed by JSGB guest author Ron Craig, aka Captain iPad
Where 'ya from kid?
Since I've been retired, and prior to that, I have dabbled in my family history, following the trail of my ancestors. It is a pastime that can take you down many virtual rabbit holes. It can consume a lot of your time, but with some planning, and patience can be a rewarding experience.
I have been on and off again with it in the past few years, but have always been drawn back, when something ignites the spark again. Such a spark occurred before Christmas when I was generously gifted an Apple Gift card. I could think of nothing better for that card than to purchase an update for my Family Tree software for my computer! And I was off and running again.
Soon, I was comparing notes with others and rediscovering past gems, and new ones. I've been syncing my research with other's trees, and getting in touch with relatives I didn't know existed before I dove into this wonderful world again.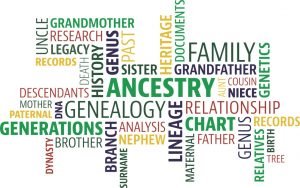 The ancestry and personal DNA business is huge, so finding information is not nearly as difficult as it was years ago, when people had to pay for information and records from church archives for example. Today, there is some cost involved if you want to get the best information, but there are also many free resources available.
My wife and I had our DNA tested a few years ago, and that opened an even bigger world of distant cousins and other relatives and showed us where most of our ancestors originated.
As with many people living in Canada, our roots go back to the United Kingdom, Europe and, in my case, also the eastern U.S., and eastern Canada.
There are some wonderful stories and coincidences. For example, in our family, my great grandmother on my father's side, Sarah Jamine Craig (Jameson) was born in New Brunswick. Although few nineteenth century rural women could read and write well, she was not only literate but eloquent. Unlike many female writers of her time, she lived at the bottom of the economic ladder. Nevertheless, she dared to dream utopian dreams. Sarah attempted to run away at age fifteen, to found a utopian colony based on alternative medicine and women's dress reform. A true feminist voice, she wore the "reform dress"- a short dress worn over trousers, despite society's disapproval. She can be seen wearing the dress on the cover of her published memoir, "Seeking Our Eden". I found this fascinating, and purchased the book which was written by her great granddaughter based on Sarah's own writings. This gave me even more insight into my past.
By strange coincidence, Sarah's travels with her family took her right across Canada, and for some time to Roleau, Saskatchewan, which you may know better as the setting for Dog River on TV's Corner Gas. The coincidence is our middle son, moved to Saskatchewan several years ago, to meet his future wife and our daughter-in-law. We visited Roleau on one of our first trips to visit them. Thinking about it now, I may have walked the same streets Sarah did so many years ago.
My wife has also discovered new relatives and re-connected with long forgotten ones through our research. Wonderful reunions.
As you can imagine, the world of family history can be fascinating and rewarding, and it doesn't have to cost a lot to get started. In fact, you can start with a completely free service such as FamilySearch.com, which has millions of records, and places to get started and search for your family history. It also integrates with many software programs, so it can do a lot of the work for you. There is also WikiTree which is free as well. Then, of course, there are the paid sites, such as Ancestry.ca, Geni.com and MyHeritage.com which is the one I chose to pay for.
Whatever way you decide to get your feet wet, whether it be the free route, or by subscribing to a paid service, or having your DNA tested by Ancestry, 23 and Me, or others, you will undoubtedly find it a wonderful pastime and perhaps an ongoing passion.
I'm Captain iPad
The post Researching Your Roots: Where Ya From Kid? appeared first on Just Sayin' Caledon.