Members of St. Patrick's Parish Wildfield, along with a wide swath of friends and acquaintances in Caledon, Brampton, and beyond were shocked to learn of the sudden death of parish priest, Father Vito Marziliano on Saturday, Feb. 12 from natural causes. He was 66 and had been a priest for 40 years.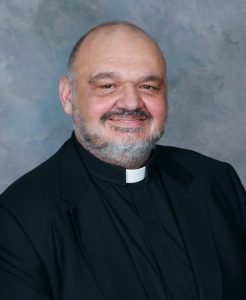 More than 200 messages of condolences and remembrances had been posted on social media by midafternoon the following Monday.
In an official statement, the Archdiocese of Toronto praised Marziliano and described him as "an inspirational spiritual leader who touched the hearts of all who met him. His care and commitment to others made him beloved in the many parishes in which he served."
Father Vito had previously served in several parishes in the Toronto area, including St. Clare's Parish in Toronto, and St. Margaret Mary in Woodbridge.
Appointed to St. Patrick's in 2014, he had been the driving force behind a number of projects and initiatives, chief of which was the planning and fundraising for a new church, which, unfortunately, he did not live to see built.
The design for the new structure was inspired by the Church of the Multiplication of Loaves and Fishes in Israel, which Father Vito had conducted a number of parish pilgrimages to.
According to an Archdiocese spokesperson, this project will continue under a new pastor, when one is appointed. The current St. Patrick's Church is more than 100 years old and is not large enough to accommodate the growing parish. (St. Patrick's is the second oldest church in the Archdiocese of Toronto.)
Another initiative was persuading the parish to successfully sponsor and help integrate a Syrian family into the community. As well, he promoted the legacy of Father Francis McSpiritt, the legendary priest who was instrumental in the construction of the existing church in 1894.
"Today is still a sad day for us in our community within the gates of Wildfield.  Father Vito a priest who we welcomed many years ago and he, in turn, opened our hearts and brought our community closer with his never ending smile," says former Wildfield resident Kate Stokes who still maintains a strong connection with St. Patrick's as member of its cemetery board.
"A community is in mourning, in shock and completely devastated by the sudden and unexpected passing of our beloved pastor. I am still reeling from his passing," said parish member Sally Baldesarra, adding that the congregation will carry on and be inspired by the priest's "words, advice, and lessons."
Among the many other countless people touched by Father Vito is Caledon Ward Five Area Councillor Tony Rosa. "He helped me cope with the tragic death of a close friend."
As the head of guidance and student services at St. Michael's Catholic Secondary School in Bolton, the councillor had also worked with the priest on a number of educational issues.
"Father Vito was a true pillar in our community. He will always be remembered for his exemplary servant leadership. He was a man of deep faith who loved with a full heart. I am so grateful to have known him. He will be sadly missed," said Rosa.
A funeral Mass by registration is to be held on Saturday, Feb. 19 at 10 am at St Clare of Assisi Roman Catholic Church in Woodbridge.
For more details see: https://www.vesciofuneralhome.com/memorials/fr-vito-marziliano/4858146/index.php
The post St Patrick's Parish's Father Vito Will Be Dearly Missed appeared first on Just Sayin' Caledon.