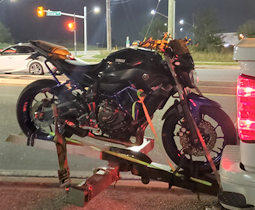 On Monday, August 9, 2021, at approximately 8:24 p.m., officers from the Ontario Provincial Police (OPP) Caledon Detachment were conducting traffic enforcement in the area of Mayfield Road and Dixie Road in the Town of Caledon.
During these patrols, an officer observed a black motorcycle with obstructed plate travelling eastbound on Mayfield Road. The motorcycle was seen cutting across three lanes of traffic and continuing driving on the sidewalk nearly striking a pedestrian, and vehicle making a turn.
The rider attempted to re-enter traffic on Mayfield Road, however, lost control of the motorcycle and was subsequently placed under arrest.
As a result, Jordan GUIDA, 20, of Vaughan, has been charged with:
– Dangerous operation of a motor vehicle
– Race a motor vehicle – stunt
– Obstruct plate
– Operate a vehicle without insurance
The accused is scheduled to appear at the Ontario Court of Justice in Orangeville on October 21, 2021 to answer to the charges.
The motorcycle was impounded for 14 days and the accused party's licence was suspended for seven days.
The post Motorcyclist Charged After Driving Dangerously on Sidewalk appeared first on Just Sayin' Caledon.