The following article, an inspiring history of the CCS Home for the Holidays Gala,  was submitted to JSC for publication by Caledon Community Services
This year Caledon Community Services is celebrating the 25th Anniversary of our Home for the Holidays gala which has become Caledon's premiere event of the holiday season.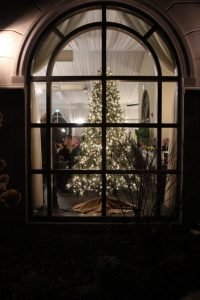 The first ever Home for the Holidays Gala took place in 1998 inspired by a recognition of growing community needs and the goodwill and warmth of the holiday season.  A passionate group of community volunteers formed a committee and graciously hosted the inaugural gala in the beautifully decorated home of the first committee chair, Bonnie (and George) Ledson, business and philanthropic community leaders. The Ledson's warmly welcomed guests into their home for a cause that all of Caledon got behind: stepping up for our neighbours in need.
There were many other community builders whose hospitality is legendary: Dawna and Don Courtney, Robin and Robert Ogilvie, the Haney family, Annette and Ted Ayers, and Linda and Michael Steele, to name just a few champions who opened their homes in the early years.  Numerous committee volunteers gave freely of their time and energies to create stunning annual events that set the course for years to come. Many sponsors, guests and volunteers have been with this event since the beginning.  Little did they realize how enduring their efforts and generous actions would continue on helping  Caledon's most vulnerable for a quarter of a century and beyond.
Over the years this annual event has raised funds that have changed lives of thousands of people. It began as neighbour helping neighbour in their time of greatest need and remains so today! Whether holiday cheer, food support, utility subsidies, warm clothing, care coordination, employment assistance, accessible transportation or seniors in need, it supports the most vulnerable in our community.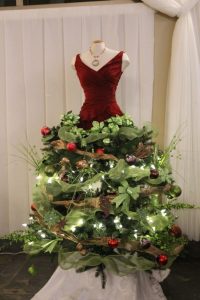 As the gala outgrew the homes of committee members it moved venues to various CCS locations being held at the Exchange Community Hub and in different area golf courses.  Then, in 2016 in its 19th year, a re-envisioned gala took hold.  Johanna Downey's, a Board member at CCS at the time – experience of galas in surrounding communities suggested that Caledon could step it up. This relaunch in that first year of big ideas was held at the newly opened Greenhouse at the Royal Ambassador Event Centre in the heart of Caledon and was the first major community event to grace this beautiful new local venue.  Anne Thompson, a creative force extraordinaire, served as Gala Chair 2016-2018 and helped shape the event's enduring success.
The gala garnered a reputation for its special Celebration of Trees that warmed hearts across Caledon. These beautiful creations were auctioned off and many were donated to various sites in the community. Most special of all, CCS' unique Gifts from the Heart offered by live auction each year are embraced by guests demonstrating the kindness and generosity Caledon is renowned for.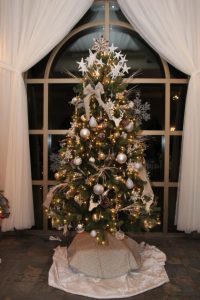 Recent gala emcees such as Ken Weber, Doug Prince and Bill Parnaby, as well as all-star Storage Wars Canada auctioneer Don Reinhart, have all graced the event with their skills and charisma Bill Parnaby is returning to his MC role this year.  In 2020 and 2021 our gala creatively pivoted to virtual – we returned Literally Home for the Holidays in 2020 and Literally STILL Home for the Holidays in 2021 – the Sequel, only this time people were in their own homes all across Caledon!
The challenges we've all faced over the past few years makes our return to an in-person event with 300+ guests so exciting! It celebrates our resiliency.  Johanna Downey and Stephen Julian, co-Chairs, look forward to welcoming you to an event for the ages.  We are honored to welcome Tribal Partners Inc.as our Platinum Sponsor along with many other generous sponsors who are making this year's gala truly memorable.
Don't miss your chance to be part of something truly special on December 2nd! Check out the opportunities to sponsor, donate auction items and secure your tickets now!
The post Coming Home – to Caledon – For The Holidays For The 25th Year appeared first on Just Sayin' Caledon.