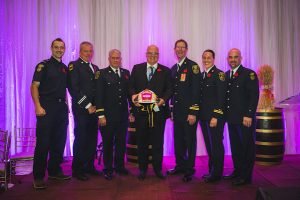 On Thursday November 3rd over 450 people gathered at the Royal Ambassador Centre in Caledon for a retirement celebration for Mayor Allan Thompson.
The venue was filled with former Caledon Mayors and Mayors from neighbouring municipalities, current and former Councillors, representatives from other levels of government, and hundreds from the community organizations, businesses and all walks of life that felt the influence of Thompson's almost 20 years of public service.
Following numerous presentations by several political leaders, Caledon OPP, Caledon Fire & Emergency Services, Caledon Council, and a genuinely touching speech by Thompson's wife Anne, Mayor Thompson offered his farewell words……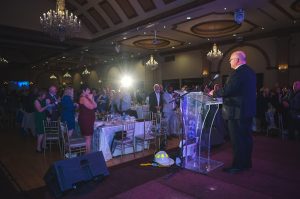 In 2003, my wife Anne challenged me to address a frustration that I had with a municipal process by asking "What can you do to help?"
That, together with my parents teaching us that there is nothing more rewarding than service to others, led me to put my name on the ballot for Town Council.
19 years later as my second term as Mayor comes to an end and I prepare to hand the torch to the new Mayor and Council. I can say with all sincerity that I know we have done a good job in preparing Caledon for a bright future!
These are the three key priorities that I worked as hard as I could to achieve for our Town:
Connecting Caledon to High Speed Internet
Planning Caledon for Caledon with a made in Caledon Growth Plan that is Preparing and Protecting our Town for the growth that is to come
Renewing our Relationship with our Indigenous Partners
Here is where each of those priorities stand today:
We are one signature away from the funding agreement that will complete the Connecting Caledon Plan!
This past Friday, the Provincial Government approved most of the mapping changes Caledon asked for on the Region Official Plan and that means we can move forward with our Made in Caledon Plan.
After years of building a trusting relationship and the presentation of a wampum belt in 2018, Chief Stacey Laforme and I signed a historic memorandum of understanding on October 28th, 2022
On November 15th, as I retire from public office and on to what will come next, I am incredibly proud of the Caledon Team who worked with me to realize these priorities!
Thank you for the memories,
Allan
The post Caledon Mayor Allan Thompson's Farewell Message appeared first on Just Sayin' Caledon.