Ladies, let me just say…there's a lot of hoopla about Camp Hoo-Ha!
I mean what could be more fun than, as Angela Reynolds license-holder for Camp Hoo-Ha Caledon and surrounding area puts it, "A bunch of grown-ass women of all ages, and all backgrounds, finding the kid in themselves again!"
As every woman knows some of the best life moments happen can with your tribe. Camp Hoo-Ha is definitely something to enjoy with your tribe and, better yet, expand your tribe.  Says Angela "There's no selling anything, or forced networking. We eat, we drink, we craft, we learn, we laugh and, for once, we have fun just for us. And…you get a badge!"
Camp Hoo-Ha, the brainchild of a woman named Melanie McKay, was born in September 2017 in Calgary. Now they seem to be on a mission to set up camp all across Canada. Over 200 events have been hosted in Alberta, British Columbia, Saskatchewan, and most recently, Ontario.
These events have been built around skill-building topics like Women's Health, Styling, Beer Making, Good Skin, Home Improvement, Cooking the Perfect Bird, Skivvies, Gardening, Self-Defense, Holiday Baking, Sex Ed, Wine Ed, and more.
When Covid hit events went online to keep spirits high and connections alive. But now it's back to in-person camps and Caledon is getting its inaugural event in September.
Angela has announced the date which is September 15th. The topic, Self-Defense, is led by TV fitness personality and former police officer Nichelle Laus.
How did Camp Hoo-Ha Caledon happen?
"I have a great tribe of women in my life" Angela admits, "and we are always looking for something new to do together. I had started a private Facebook group for us years ago so that we were able to entertain and support each other privately. I had hopes it might become a thing, but I didn't really know where to start."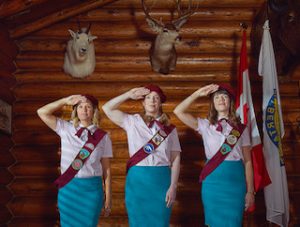 "When a Camp Hoo-Ha logo showed up in our Facebook feeds, we all had a good laugh and then started investigating. While we weren't able to attend that event (in Halton) we did get to talking about having a Camp Hoo Ha Chapter of our own. A few of us are quite good at planning things, and at crafting. And we're all definitely good at laughing and being somewhat inappropriate. So that helps. I am lucky to have the assistance of Tracey Wallace and Danae Wallace Dunn of AAA Events in the execution of these events. So you see,  Camp Hoo-Ha Caledon really just happened organically from there."
Camp is open to all women, aged 18 and over, and from all walks of life. LGBTQ2+, moms, not moms, entrepreneurs, young and old, are all welcome. Camp Hoo-Ha is free of judgement.
"Our doors are open to anyone who is open to us" says Angela.
Admission fees will vary depending on the speaker, venue, and the food being served.
"We are trying to keep things affordable" she explains, "because the main goal is to build a community of likeminded women. There is a time in our lives when, if we don't have young kids in extracurriculars, and we work somewhat in isolation, that it becomes hard to make friends. I feel like the pandemic made that an even bigger issue for an even larger group of people.  I do know that after an evening out with my tribe my problems seem lighter. And I always return home smiling. So much was lost in this regard. And it's really time to recapture that."
You can pre-register for the September 15th – 6:00PM event at the Alton Legion through either the group's Facebook or Instagram pages or buy your tickets HERE
"Future events will be held across Caledon" says Angela. "We recognize the large and diverse area and want as many people as possible to be able to attend."
"All you need to bring is an open mind and a positive attitude"she advises. "There is no dress code. However since the first camp is Self-Defense I would say stilettos probably aren't a good idea. But if that floats your boat, we'll make it work!"
If you need to reach out to Angela you can contact her at [email protected]

The post Ladies! There's Lots Of Hoopla About Camp Hoo-Ha Caledon! appeared first on Just Sayin' Caledon.