Officers from the Caledon Detachment of the Ontario Provincial Police (OPP) have responded to an armed robbery in Bolton and are now requesting the public's assistance in identifying two suspects.
On June 22, 2022, at approximately 2:37 p.m., Caledon OPP was alerted of an armed robbery in progress. At 2:41 p.m., officers arrived and attempted to locate the suspects who had already fled on foot with a quantity of iPhones. Descriptions of two suspects were obtained from security video footage at the retail store on McEwan Drive in Bolton. A handgun was used in the commission of the offence. No injuries were sustained.
The investigation is ongoing by Caledon OPP's Major Crime Unit. The OPP's Forensic Identification Unit also assisted with the investigation.
The same suspects attempted to enter a different retail store in Bolton just prior to this incident, however entry was not successful. Caledon OPP responded to this separate location due to the panic alarm being activated by store staff.
They were last seen walking around Hwy 50 and Healey Rd in Bolton, as well as around the Walmart and Home Depot plazas. They would stand out since they were walking around in full track suits, masks, and hoods up despite the extremely hot summer temperatures. It is also believed that they are operating a white BMW SUV.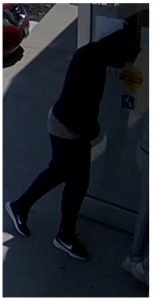 Suspect descriptions (see photographs):
Suspect 1 is described as a male, black, late teens or 20's and is of average height (approximately 5'10") and has a slim build. He was wearing an all-grey Nike track suit, black and blue mask, and white running shoes.
Suspect 2 is described as a male, black, late teens or 20's, over 6′ tall, and has a muscular build. The male was wearing a dark blue hoodie and dark pants that were worn low on the waist exposing grey underwear at the back. He wore a dark mask and black Nike running shoes.
If you have any information in relation to this incident, please contact the Caledon OPP Major Crime Unit at 905-584-2241. You can also provide information anonymously by contacting Peel Crime Stoppers at 1-800-222-TIPS (8477) or online at www.peelcrimestoppers.ca. When you contact Crime Stoppers you stay anonymous, you never have to testify, and you could receive a cash reward of up to $2000 upon an arrest.
The post Armed Robbery in Bolton appeared first on Just Sayin' Caledon.