A Public Meeting will be held to consider proposed Draft Plan of Subdivision application. Your input and insight will inform and shape plans that meet the needs of our community.
The Town of Caledon is offering a hybrid meeting model offering many ways for you to engage with Council.  To participate in-person or virtually, complete the participation form by registering here.
Meeting date: April 12, 2022 | Meeting start time: 7 p.m.
How to participate
Members of the public may participate and learn more about proposed applications and can provide direct input.
How to attend
Attend In-Person: Members of the public may register to delegate in-person and speak to an item listed on the agenda or sit in the gallery to watch the meeting. Those registering to attend in-person must show proof of full vaccination and government issued identification, wear a face mask at all times unless delegating, and successfully complete the Town's COVID-19 screening prior to entering Town Hall.
Virtually: Members of the public are welcome to participate via phone or WebEx Meeting upon request. For more information on how to participate, please visit http://www.caledon.ca/notice or contact the Planning Department. Please note that there are deadlines by which the request to participate need to be made.
For more information on the above 2 options please follow this link.
How to delegate
If you wish to delegate to a specific application listed on the agenda package, please register in advance by completing the electronic registration form.
Register to Delegate
Note: Complete and submit your electronic registration form prior to the start of the scheduled public meeting to ensure that your comments are heard during the meeting.
How to submit a written comment
You may submit written comments by uploading them directly through the electronic registration form. If you do not wish to submit your written comments through the electronic registration form, you can e-mail your comments to 
[email protected]
 and 
[email protected]
 Written comments submitted will be considered public information and will form part of the public record.
Submit Written Comments
Note: Submit your written comments prior to the start of the scheduled public meeting.
Speak to Staff
Contacting Planning staff or the Lead Planner during office hours by phone or email.
Booking an appointment to visit Town Hall to speak with Planning staff. Visit our development webpage for more information.
Applicant and Location
Town File Number(s): 21T-21003C
Applicant: Glen Schnarr & Associates on behalf of Mayfield Station Developments Inc.
Location: 2068 Mayfield Road, Ward 2
Proposed Changes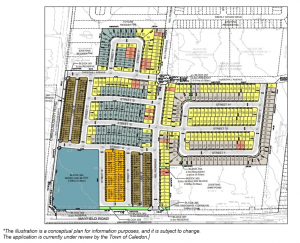 The Applicant has applied for a Draft Plan of Subdivision on the subject lands. The current proposal is for 551 residential units in various built forms; with a mixture of single-detached dwellings, semi-detached dwellings, rear-lane townhouses and townhouses. The proposal also includes the construction of a mixed-use block at the intersection of Chinguacousy Road and Mayfield Road, along with a Stormwater Management Pond along Mayfield Road.
One road connection is proposed along the southerly portion of the subject lands to Mayfield Road and two road connections are proposed along the westerly portion of the subject lands to Chinguacousy Road. Eight roads and 2 laneways are proposed to provide internal connections to the rest of the development. A walkway is also proposed along Mayfield Road which are generally located at the northeast intersection of Mayfield Road and Chinguacousy Road.
Lead Planner
Sean Kenney, MCIP, RPP
Senior Planner
Development and Design
905-584-2272 x.4199
[email protected]
Additional Information
For more information about this matter, please see the 2068 Mayfield Road webpage or contact the Lead Planner at Town Hall from Monday to Friday, 8:30 a.m. to 4:30 p.m.
The post Public Meeting: 551-Unit Subdivision Proposed At 2068 Mayfield Road appeared first on Just Sayin' Caledon.