On January 4, 2022 at approximately 12:57 p.m., officers from the Caledon Detachment of the Ontario Provincial Police (OPP) were alerted of an individual not in compliance with conditions in relation to previous charges. The male party was reported being at a residence in the area of Centreville Creek Road and Old Church Road in the Town of Caledon.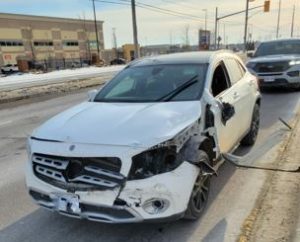 During the investigation, the suspect, along with another person, attempted to flee the scene in a vehicle. While fleeing, they intentionally made contact with two police cruisers and another vehicle at the scene. They also accelerated towards police, forcing officers to jump out of harm's way.
The vehicle fled the scene and was responsible for another collision on the roadway near the residence. It was located shortly thereafter and the lone occupant was placed under arrest. The second suspect was quickly located at a residence in Brampton and was placed under arrest as well.
No injuries were sustained as a result of this incident.
As a result of the investigation, Harendra SINGH, 24, of Mississauga was charged with:
• Assault a peace officer with a weapon (6 counts)
• Dangerous operation
• Flight from peace officer
• Failure to comply with release order (3 counts)
The accused was held for a Bail Hearing scheduled for January 5, 2022 at the Ontario Court of Justice in Orangeville.
Additionally, Rubalpreet KAUR, 22, of Caledon was charged with:
• Obstruct peace officer
The accused is scheduled to attend the Ontario Court of Justice in Orangeville on March 17, 2022 to answer to the charge
The investigation is ongoing. Anyone with information regarding this incident are asked to contact Caledon OPP at (905) 584-2241 or toll-free at 1-888-310-1122.
You can also provide information anonymously by contacting Peel Crime Stoppers at 1-800-222-TIPS (8477) or online at www.peelcrimestroppers.ca. When you contact Crime Stoppers, you stay anonymous, you never have to testify, and you could receive a cash reward of up to $2,000 upon an arrest.
The post Two Arrested After Fleeing Vehicle Strikes Cruisers, Nearly Hits Officers appeared first on Just Sayin' Caledon.