A record-breaking number of Smiles: Tim Hortons® raises more than $15 million throughout national Smile Cookie Campaign, a new record, $37,138 to be donated to Caledon Meals on Wheels!
Tim Hortons restaurant owners and millions of generous Canadians across the country combined broke a new Smile Cookie record by raising more than $15 million for over 600 charities across Canada.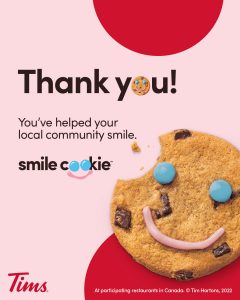 This year in Caledon, local Tim Hortons restaurant owner(s) Brad & Liz Stafford, Jay MacDonald, and Leonard & Cindy Scianitti and guests, helped raise $37,138 to support Caledon Meals on Wheels.   The Tim Hortons restaurant owners in Caledon have been raising funds for Caledon Meals on Wheels since 2015.  In the past 8 years, over 177,000 cookies have been sold and over $177,000 donated in support of Caledon Meals on Wheels.    The funds will be used for the many programs and services provided by Caledon Meals on Wheels which supports Seniors and people with disabilities in Caledon and the surrounding communities.
"We are so grateful for the support of our local Tim Hortons restaurant owners, their staff and our community for their efforts year after year", states Christine Sevigny, the agency's Executive Director, "they see the value in what we do and the difference that each cookie purchase makes!"
Smile Cookie Campaign Facts
In 2021, the Smile Cookie campaign raised $$12.2 million across Canada
The Tim Hortons Smile Cookie program started in 1996, originally raising funds for Hamilton Children's Hospital. Twenty-five years later, the annual charitable campaign has now raised a total of more than $75 million for charities selected every year by restaurant owners.
Nationally, Tim Hortons restaurant owners support over 600 local charities, hospitals and community programs through the Smile Cookie campaign
Join the Smile Cookie Conversation
Use the hashtag #SmileCookie
Tag or follow us on Instagram @TimHortons @caledonmealsonwheels
Tag or follow us on Twitter @TimHortons @CaledonMOW
Like us on Facebook Tim Hortons & @CaledonMOW
Subscribe to us on YouTube @TimHortons
Visit ca/smile-cookie for a list of local charities benefiting from the Smile Cookie campaign
The post Caledon Tim Horton's Raises Over $37,000 For CMOW With Smile Cookie Sales appeared first on Just Sayin' Caledon.