Officers from the Caledon Detachment of the Ontario Provincial Police (OPP) have recovered vehicles and laid charges in relation to an auto theft investigation.
On August 24, 2022, Caledon OPP responded to a report of two stolen vehicles. A 2020 Dodge Grand Caravan and a 2018 Ford Focus were taken from a worksite on Centennial Drive in the Town of Caledon. Personal items including cell phones and credit cards were also taken. The initial investigation revealed that a stolen 2005 Ford F350 was used by the suspects to complete the thefts.
The Caledon OPP Community Street Crime Unit (CSCU) was engaged and quickly identified one of the suspects, who was located in the City of Hamilton. Two individuals were found in the possession of stolen vehicles.
As a result of the investigation, Clarise DAWE, 27, of Hamilton, was charged with:
• Possession of property obtained by crime – Over $5000
The accused is scheduled to attend the Ontario Court of Justice in Hamilton at a later date to answer to the charge.
Colin GRIFFEY, 31, also of Hamilton, was charged with:
• Possession of property obtained by crime – Over $5000, two counts
• Resist arrest
• Theft of motor vehicle, two counts
• Fail to comply with release order, two counts
• Possession of break-in instruments
• Unauthorized use of credit card data, five counts
• Possession of Schedule 1 substance – methamphetamine
• Operation while prohibited under the criminal code
The accused is scheduled to attend the Ontario Court of Justice in Orangeville on October 31, 2022, to answer to the charges.
Caledon OPP recovered the following stolen motor vehicles (photographs are attached):
• 2020 Dodge Grand Caravan
• 2005 Ford F350
• 2008 Ford Expedition
The Ford Focus remains outstanding.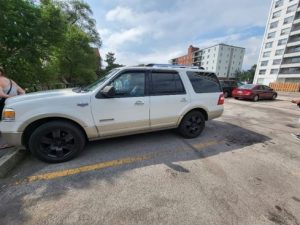 As part of the ongoing investigation, on August 31, 2022, the Caledon OPP CSCU executed a search warrant at an address in Hamilton. A 15-year-old youth was arrested in connection with the thefts. A general provision of the Youth Criminal Justice Act (Y.C.J.A) prohibits the release of the name of a Young Person and therefore, the identity of the Young Person involved in this investigation will be withheld. Charges are currently pending as the investigation continues.
Caledon OPP is working actively with its various partners to combat the growing trend of auto thefts in the Region and across the province. The investigation remains ongoing. If you have any information, please contact police by calling 1-888-310-1122.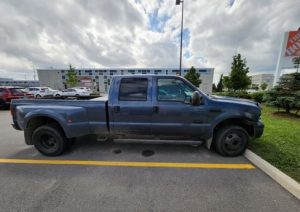 Additionally, if you observe unusual activity in your community, report it immediately to police. Make note of vehicle licence plates if you can. You can also provide information anonymously by contacting Peel Crime Stoppers at 1-800-222-TIPS (8477) or online at www.peelcrimestoppers.ca
When you contact Crime Stoppers you stay anonymous, you never have to testify, and you could receive a cash reward of up to $2000 upon an arrest.
Caledon OPP is committed to enforcement initiatives targeting this issue and will continue to educate residents on crime prevention strategies to minimize victimization.
The post Caledon OPP Recover Stolen Vehicles And Lay Charges appeared first on Just Sayin' Caledon.