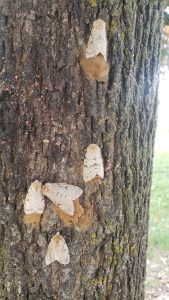 Well neighbours, it is the spring after the great invasion of the European Gypsy Moth, or LDD as is known by the politically correct. Last year we watched them march up and down our deciduous tree trunks, gobbling up leaves at an astonishing speed. Then they vanished for a few weeks, only to reappear as clouds of tiny brown winged males seeking their flightless white winged mates. Within days, masses of fluffy thumbnail sized egg masses were laid into every available crevice in any tree bark available. Now we wait.
If you were not diligent in removing egg cases at the end of that mating period, expect a lot of caterpillars this spring. Other than plastic wrap and double sided tape and Tangleroot coating the trunk, there is a solution. An approved insecticide known as BtK or (Bacillus thuringiensis kurstaki)  is available at local stores.
Here's the rub. It has to be sprayed on the foliage of the trees and shrubs just after the caterpillars emerge, so timing is everything. You don't spray it on the caterpillars, but on the stuff they eat. If you have a garden hose, that makes using the BtK in a diluted spray easy. But if you are trying to protect your boulevard trees, you'll need a hand sprayer and good luck. These insects have been around a lot longer than we have, and judging by our behaviour in Ukraine, they will outlast us.
Their hatch in the spring is timed to follow the budding of leaves on the tree. Ecology 101, Don't let the babies out until there is food for them. The young caterpillars will complete their millenia old migration up and down the tree trunks daily to feed on the new leaves, and then hide in the detritus below overnight. The caravan begins again with daylight. They will mature and mate. This is their life cycle, and we are just a speed bump in the way.
The way I see it.
http://skidcrease.com/
The post Return of the Caterpillars: Timing Is Everything appeared first on Just Sayin' Caledon.