Contributed photo (above) : L-R Geraldine Aguiar, CCS; MPP Sylvia Jones;  Angela Panacci, OTF Grant Committee; Wanda Buote, CCS Board Chair
On Friday May 26th local MPP Sylvia Jones joined Caledon Community Services (CCS) to celebrate Evolve Caledon's 6th Anniversary. At the event, MPP Jones and the CCS team also celebrated the $162,100 Resilient Communities Funding they received from the Ontario Trillium Foundation (OTF). The funds, first awarded in July 2022 over 18 months, supported CCS' the post-pandemic recovery of this important community resource in Caledon and the surrounding area.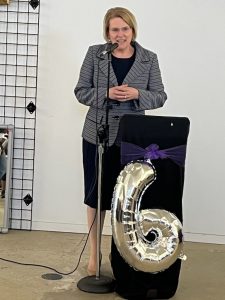 "This investment by the Ontario Trillium Foundation will help support Evolve Caledon as they continue to focus on rebuilding staff, volunteers and programs for continued success," said Sylvia Jones, MPP for Dufferin-Caledon. "With the merger of the two locations and the launch of the e-commerce shopping platform, this funding helps ensure CCS can continue to give back through programs and resources that benefit the community."
The grant funds assisted with staffing, professional guidance, program and equipment costs, engaging new and reengaging volunteers, decreasing costs and increasing revenue by expanding e-commerce and merging locations into a new business operations model.
"The recent investment from OTF supporting Evolve Caledon has been integral to our success in merging our two locations into one fantastic shopping destination AND the launch of our e-commerce platform," says Michelle Veinot, CCS, Director of Community Resources.
"We are so grateful to OTF for their amazing support of our retail program which generates revenue for much needed programs and services in the Caledon Community!'
Caledon Community Services (CCS) Is a non-profit agency that has been helping shape the future of a caring and engaged Caledon community since 1971. Our programs and services are unique in that they are designed to support all age groups by addressing a full range of community needs in a uniquely challenging and increasingly diverse community. Changing lives of individuals, families, children and seniors across Caledon provides a breadth of services that present compelling opportunities to attract new friends and raise support for our community work.  Learn more at ccs4u.org.
 The Ontario Trillium Foundation (OTF), an agency of the Government of Ontario, and one of Canada's leading granting foundations celebrates 40 years of grant distribution in Ontario and making a lasting impact in communities. Last year, OTF invested nearly $209M into 2,42 community projects and partnerships, which included funding for the Government of Ontario's Resilient Communities Fund. Visit otf.ca to learn more.
The post $162,000 OTF Grant Breathes New Life into Evolve Caledon appeared first on Just Sayin' Caledon.