Officers from the Caledon Detachment of the Ontario Provincial Police (OPP) have charged a driver with impaired operation.
On April 18, 2023, shortly before 10:30 p.m., Caledon OPP received a traffic complaint from a concerned motorist. A vehicle was described to be operating in an unsafe manner. An officer located the vehicle as it was turning southbound on Highway 10 from Olde Base Line Road. During the course of the investigation, the officer formed grounds that the driver's ability to operate a motor vehicle was impaired by alcohol and was subsequently arrested.
As a result a 26-year old from Brampton, was charged with:
• Operation while impaired – blood alcohol concentration (80 plus)
The accused is scheduled to appear at the Ontario Court of Justice in Orangeville on May 4, 2023, to answer to the charge. The driver's licence was suspended for 90 days, and the vehicle impounded for 14.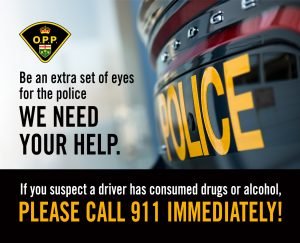 Caledon OPP would like to take this opportunity to thank the member of the public who placed the call to police. The report may have saved a life. Motorists are reminded that no amount of alcohol or drugs in your system is safe when driving. If you plan on drinking or consuming drugs, plan to not drive. Instead, arrange for a designated driver, take a taxi or public transit, or come up with another plan that takes impaired driving out of the picture. If you suspect that someone is driving while impaired by alcohol or drugs, it is important to call 9-1-1 to report it.
You can also provide information anonymously by contacting Peel Crime Stoppers at 1-800-222-TIPS (8477) or online at www.peelcrimestroppers.ca. When you contact Crime Stoppers, you stay anonymous, and you never have to testify.
For more information about the penalties of driving impaired, visit: https://www.ontario.ca/page/impaired-driving
The post Traffic Complaint Leads to Impaired Operation Charge appeared first on Just Sayin' Caledon.