Contributed photos
A journey that starts with the birth of a child is never expected to end with enduring their loss.
In September 2020, at the young age of 33 years, Andrew Robinson passed away and his mother Vera found herself experiencing that crushing loss.
Many of you will remember Vera Robison very well. Although she recently moved a bit north Vera spent 52 of her 65 years in Caledon.  For many years you would find her in her shop, The Naked Vine, on Bolton's south hill. She still owns a cleaning company that she started in Caledon as well.
While nothing can take away a mother's grief Vera has found a way to honour Andrew's life. Those efforts also support The Vitanova Foundation, a registered charity that assists people with addiction and mental health issues to put their lives back together again. Vitanova is located in Vaughan, just minutes from Caledon.
"As we move past the pandemic the fallout is really beginning to show" says Vera. "It is widely accepted that many people experienced heightened emotional turmoil, resulting in increased anxiety and depression.  There is a spike of people turning to substances to cope and they need help to try to find balance again."
Vera firmly believes that Vitanova can help people weather this situation that she likens to a "perfect storm". As well their services are provided to clients free of charge. They depend on government subsidy for their day-treatment program but must rely on fundraising and donations for all else.
Executive Director Cindy Cepparo, who was in fact the first person hired when the organization was formed over 30 years ago, explains that the Vitanova model "began as a one-on-one counselling service, has evolved into a comprehensive program which begins with an in-depth assessment, moves through treatment and rehabilitation, which includes life and job skills training, and concludes with ongoing follow-up to ensure sustained recovery."
"Ontario continues to deal with the opioid crisis" Cindy points out "and at Vitanova our waiting lists are growing with more and more clients requiring treatment.  More than 2,800 Ontarians died from opioid related causes in 2021 and 94% of opioid overdose deaths happen by accident."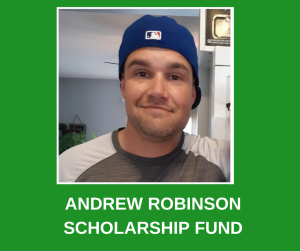 "I believe these overdoses are preventable and recovery is possible" she emphasizes. "We need your support to help our clients and their families in order for us all to live healthy and productive lives giving back to our communities."
"Andrew was a natural athlete who loved golf" says his mom. And so it was the first Andrew Robinson Memorial Golf Tournament was held in September 2021. The first and second tournament, which was held in September 2022, raised $130,000  combined for The Vitanova Foundation and the Andrew Robinson Scholarship.
Vera reports that the first recipient from the Andrew Robinson Scholarship received a fully funded year to a program at Humber College and will be a guest speaker at the post-tournament dinner this year.
The Andrew Robinson scholarship is open to anyone who has completed their recovery at any treatment centre in Ontario and has been alcohol and drug-free for a minimum of two years and needs financial help to go to (or return to) college or university.  You can find more information about the scholarship fund on Vitanova's website.
This year's golf tournament is being held on September 16th at Harbour View Golf and Country Club. It is in a beautiful location on the southwestern shore of Lake Simcoe, due east of Cookstown. Registration opens at 8:30 am and there is a 10:00 am shotgun start.
Tickets are $200 each, and include a welcome bag, 18 holes of golf, golf cart, a chef-prepared breakfast sandwich, lunch, dinner, non-alcoholic beverages, a putting contest, eight on-course contests, and a host of opportunities to win prizes.
Tournament Convenors are Vera Robinson and Steve Podsadecki. For tickets contact Steve at 416-708-6173 or Vera at 416-998-6495.
Vera is also grateful to any person or business who would like to step up and provide prizes or be an event sponsor. She can be reached at [email protected] or her number above.
She is hopeful for another successful event "both as a legacy to my son and to help prevent others from ever having to receive that heartbreaking call."
The post Tournament Honours Lost Son And Raises Awareness For Vitanova appeared first on Just Sayin' Caledon.