Officers from the Caledon Detachment of the Ontario Provincial Police (OPP) have laid multiple charges following a suspicious person investigation.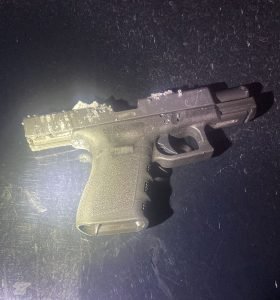 On March 3, 2023, at approximately 2:30 a.m., Caledon OPP responded to a report of a suspicious vehicle/person on McCandless Court, near Paisley Green Avenue, in the Town of Caledon. Officers arrived minutes later and located the vehicle. Once the driver realized police had arrived, an attempt to flee was made by driving into both police cruisers that were positioned in a way to prevent escape. A foot pursuit followed when it was observed that the suspect was also armed with a handgun. The accused was arrested without any further incidents.
As a result of the investigation a 34-year old man of Toronto, was charged with:
• Unauthorized possession of a prohibited / restricted firearm
• Possession of firearm at unauthorized place
• Careless use of firearm, weapon, prohibited device or ammunition
• Possession of prohibited or restricted firearm with ammunition
• Possession of a prohibited device or ammunition
• Dangerous operation
• Assault peace officer with a weapon – two counts
• Operation while prohibited
• Possession of firearm or ammunition contrary to prohibition order – two counts
• Flight from peace officer
• Failure to comply with prohibition order
• Possession of property obtained by crime under $5000 – two counts
• Possession of break in instruments
• Driving while under suspension
• Driving motor vehicle with open container of liquor
The accused was held for a Bail Hearing at the Ontario Court of Justice in Orangeville.
Caledon OPP would like to thank the resident for making the call to police. It was that report along with the officers' quick response that resulted in an arrest, multiple charges, and a weapon taken off our streets. If you witness activity that is suspicious in your neighbourhood, call 9-1-1 to report it.
You can also provide information anonymously by contacting Peel Crime Stoppers at 1-800-222-TIPS (8477) or online at www.peelcrimestoppers.ca. When you contact Crime Stoppers you stay anonymous, you never have to testify, and you could receive a cash reward of up to $2,000 upon an arrest.
The post Firearms and Multiple Other Charges Laid on Fleeing Driver appeared first on Just Sayin' Caledon.