Caledon residents, it's time again to gather your broken toasters, chipped mugs and torn pant hems!  On Saturday, April 22nd, Caledon Reduces (a busy subcommittee of ecoCaledon) will run its fourth Repair Café, offering you the opportunity to give your household items a second life and support a circular economy in Caledon.
April is Earth Month and April 22nd is Earth Day.  While there are thousands of ways to celebrate our Earth, we know that to make it meaningful, we are all called upon to embrace personal actions of our own.  One way is by reducing waste in all its forms, including plastics, food, textiles and e-waste.  EcoCaledon's Repair Café on April 22nd is a perfect event to celebrate simple ways to extend the life of useful items, and keep them from polluting our landfills.  And every repair is free thanks to our wonderful qualified volunteer fixers!!
What is a Repair Café, you ask?  A Repair Café is a space where you can bring broken items and repair them yourself under the guidance of volunteers. Repair Cafés promote the philosophy of fixing and reusing items instead of throwing them away. Depending on the nature of the required repair, skilled volunteers may offer to repair an item for you. Volunteers will be available to help you with your  items from 11:00 am to 2:00 pm on April 22nd at the Caledon Senior's Centre in Bolton. For more information about the Repair Café, please see last year's article on JSC
Joining ecoCaledon at this event will be several other local organizations providing education on waste reduction, including The Town of Caledon, the Caledon Public Library, The Region of Peel and the Heartlake Turtle Troopers, among others.    
For more information about The Repair Café, please email [email protected]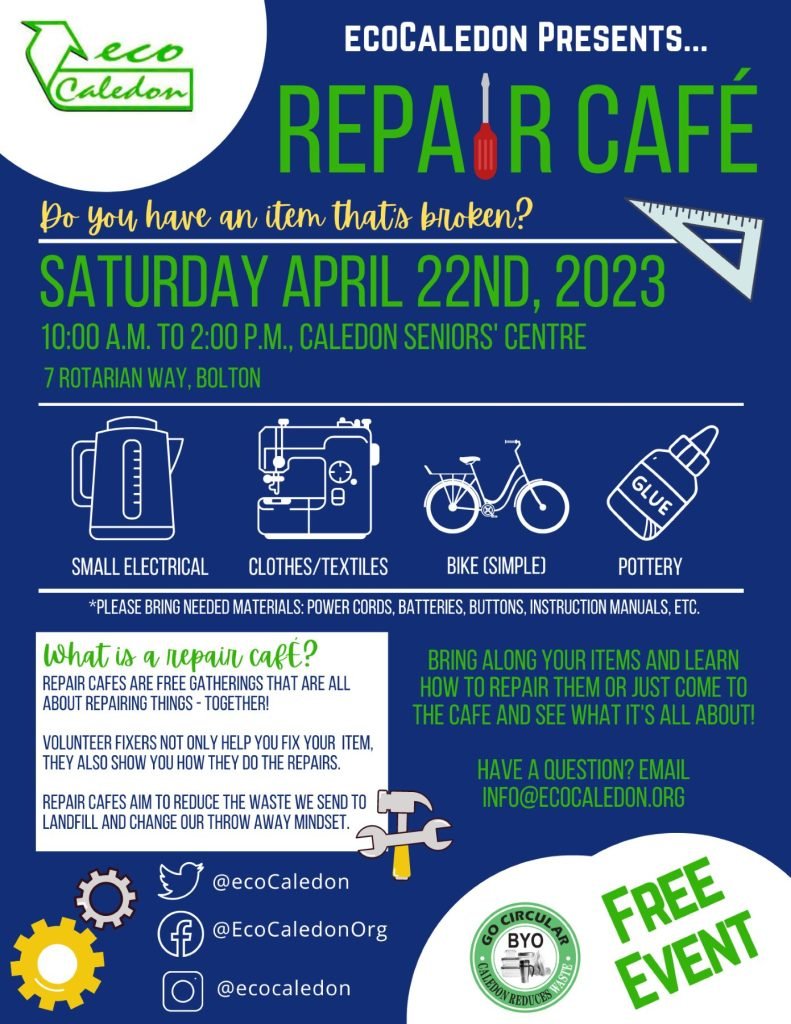 The post Next ecoCaledon Repair Café to be Held on Earth Day appeared first on Just Sayin' Caledon.