Contributed photo: Geoff Anderson, CEO of Sentryon IT Solutions (pictured centre) receives award along with Jason Goard of ProServeIT (left) and Randy Bastarache of Softlanding (right)
Sentryon IT Solutions, a leading provider of technology and cybersecurity solutions for small- to medium-sized businesses in the Toronto area, is proud to announce that it has been named as one of Canada's 50 Best Managed IT Companies for 2022.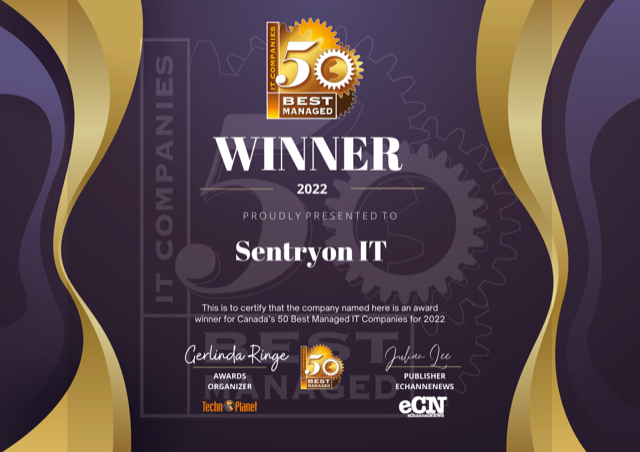 The 50 Best Managed IT Companies award is a highly prestigious program in Canada, recognizing the exceptional achievements of Canadian IT companies. To qualify for the award, a company must prove distinction in every area of business operation. These areas include vision, strategy, leadership, management, sales process, marketing, finance, operations, help desk/support, and services. Also measured is supplier and client satisfaction.
"We are honoured to receive this award, which is a testament to our commitment to providing the highest quality technology and cybersecurity solutions to our clients," said Geoff Anderson, CEO of Sentryon IT Solutions. "This recognition is a reflection of the hard work and dedication of our team, and we are proud to be among the top IT companies in Canada for 2022."
Sentryon IT Solutions has been providing innovative technology and cybersecurity solutions to clients in the construction, engineering, and manufacturing sectors across the greater Toronto area (GTA) for over 22 years. The company's focus on client satisfaction and its commitment to delivering the best possible business results have helped it establish itself as a leading provider of IT services in the region.
"This award is a testament to our long-term commitment to working closely with our clients to develop the best technology and cybersecurity solutions we can," said Anderson. "We will continue to work hard to maintain our position as one of the best managed IT companies in Canada."
For more information about Sentryon IT Solutions and its award-winning technology solutions and services, please visit the company's website at www.sentryon–it.com.
The post Bolton IT Services Firm Wins Prestigious National Award appeared first on Just Sayin' Caledon.