Officers from the Caledon Detachment of the Ontario Provincial Police (OPP) have responded to a robbery in Bolton and are requesting the public's assistance in identifying three suspects.
On November 18, 2022, at approximately 6:47 p.m., Caledon OPP responded to a report of a robbery at a pharmacy in Bolton. The preliminary investigation revealed three males entering the establishment and leaving with a large quantity of narcotics and an unknown quantity of currency. No weapons were observed in the commission of the offence and no injuries were sustained.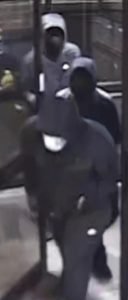 The suspects are described as males, black, and wearing black clothing with hoodies. They were all wearing face masks and purple gloves.
• Suspect 1: 5′ to 5'3″ and described as looking young
• Suspect 2: Heavy build and approximately 6′ tall
• Suspect 3: Cornrow-style hair
The OPP Forensic Identification Unit (FIS) as well as members of the Central Region Canine Unit and Emergency Response Team (ERT) were also engaged to assist with the investigation.
A still photograph obtained from surveillance footage have been attached.
A vehicle involved in the robbery has since been recovered. It was stolen in the City of Brampton a week prior. The investigation is ongoing. If you have any information in relation to this incident, please contact the Caledon Major Crime Unit at 1-888-310-1122. You can also provide information anonymously by contacting Peel Crime Stoppers at 1-800-222-TIPS (8477) or online at www.peelcrimestoppers.ca. When you contact Crime Stoppers you stay anonymous, you never have to testify, and you could receive a cash reward of up to $2000 upon an arrest.
The post OPP Investigating Additional Pharmacy Robbery In Bolton appeared first on Just Sayin' Caledon.