The Inaugural meeting for Caledon's newly elected Town Council will take place on Tuesday, November 15, 2022 at 7 p.m. at the Caledon East Community Complex.
The meeting will consist of the procession of the new Council-Elect, the Declaration of Office and the dedicatory and inaugural address.
The meeting can be viewed live at caledon.ca/agenda
The event is open to the public, however seating is limited.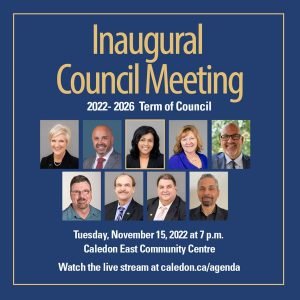 The post Inaugural Caledon Council Meeting is November 15th appeared first on Just Sayin' Caledon.