Jimmy Pountney and Luci Verdile were honoured on Thursday August 18th with Heritage Caledon's Award of Excellence for their significant contribution to the preservation of Caledon's heritage, specifically in Bolton's downtown village core.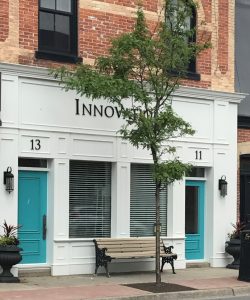 Their restoration of the storefront at 11 Queen Street North, part of the iconic 1886 Rutherford Block, has elevated that facade to its former glory and restored the fine brickwork and woodwork true to its origin.  In addition to the work on their own property, they have inspired and motivated others in the neighbourhood to begin the challenging but rewarding restoration process, by actively helping them with sourcing materials, applying for funding and creating designs appropriate to their individual heritage character.
The presentation of  the 2019 Award of Excellence to Jimmy and Luci, for the restoration of 11 Queen Street North and for being true community catalysts and supporters of Bolton's Heritage Conservation District, was delayed because of COVID-19.
The post Downtown Bolton's Jimmy Pountney and Luci Verdile Receive Award appeared first on Just Sayin' Caledon.