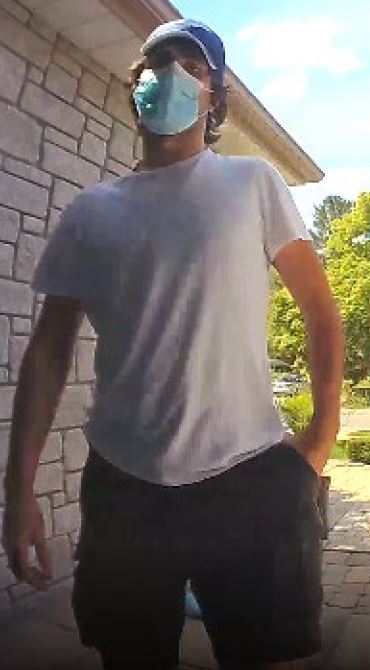 Officers from the Caledon Detachment of the Ontario Provincial Police (OPP) are requesting the public's assistance to identify a person in an active residential break and enter investigation.
On August 17, 2022, at approximately 12:12 p.m., a lone male attended a residence on Bond Street in Bolton and rang the doorbell multiple times before leaving. The homeowner was home in the garage and did not answer the door. The male then entered the backyard and accessed the residence by breaking a rear glass patio door. A safe containing various items was taken. Video surveillance obtained shows the person leaving at approximately 12:26 p.m.

The suspect is described as a white male, early 20's, wearing a white t-shirt, blue baseball hat, black shorts, black running shoes, and a blue surgical mask. A beige/gold car was also observed leaving the area. Attached is a photograph obtained by the video footage.
The investigation is ongoing. Anyone who can assist with the identification of the male or has any other information is asked to contact Caledon OPP at 905-284-2241 or toll-free at 1-888-310-1122. You can also provide information anonymously by contacting Peel Crime Stoppers at 1-800-222-TIPS (8477) or online at www.peelcrimestroppers.ca. When you contact Crime Stoppers, you stay anonymous, you never have to testify, and you could receive a cash reward of up to $2,000 upon an arrest.
The post Person to Identify in a Break and Enter Situation appeared first on Just Sayin' Caledon.