Angelina Lucien makes Southfields her home, having moved there about 4 years ago from Bolton. The 13-year old is enrolled in French Immersion at Southfields Village. And she loves to dance!
While virtually all styles of dance appeal to her Angelina's favourite is Tap. The dedicated dancer normally practises about five times a week, travelling to Dancercise in Brampton, where they lived prior to moving to Caledon, as well as the Tap Dance Centre in Mississauga.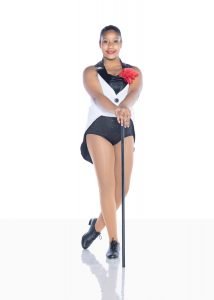 Angelina says she and her mom attend the CNE every year and had seen the Rising Star Talent Competition there. She is thrilled to have succeeded in landing a spot.
"I am very excited about being able to compete and show what I can do" she says.
Angelina has just recently returned home from a trip to Massachusetts. She had received a full scholarship from the Dance Equity Association to attend Camp Liberate.  The camp is organized by Liberate Artists INC, DEEA & The Always Enough Foundation "to encourage and support dancers in coming to the realization that their self-worth is not tied to a specific achievement because they are already enough."
Angelina feels the scholarship was a wonderful opportunity and not just a competition or camp, but an event with meaning and a positive intent to bring dancers together from all over in any social situations. She is extremely proud to have attended.
The talented teen says she would love to teach dance one day. For now she is back working very hard on her solo for the Competition and looking to step her way to a win.
We wish Angelina the best of luck! Go Angelina!
See part 1 of this 4-part series: Bianca Yong
See part 2 of this 4-part series: Serena Kuang
See part 3 of this 4-part series: Pavit Gill
The post Caledon Rising Stars, Part 4 of 4: Angelina Lucien appeared first on Just Sayin' Caledon.