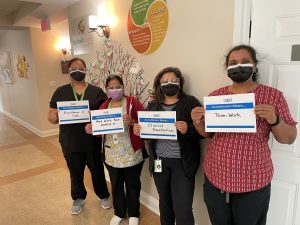 Bethell Hospice proudly received Accreditation status for a three year term through Hospice Palliative Care Ontario (HPCO) earlier this year. Accreditation is a provincial benchmark for Ontario hospice palliative care programs recognizing highest service standards and best practices. The status was granted to Bethell Hospice for the following services and programs; Hospice Residence, In-Home Visiting Hospice, Grief & Bereavement Support and Spiritual Care Services.
The goal of HPCO's Accreditation Program is to ensure the delivery of consistent, high quality hospice palliative care services throughout Ontario. Completing an Accreditation Review with HPCO is an efficient and effective means of continuous learning and improvement.
The process of achieving accreditation required the Bethell Hospice team, with the support and input from staff, volunteers, clients and family members to engage in a comprehensive review of all services, comparing Bethell Hospice practices to those of the HPCO standards.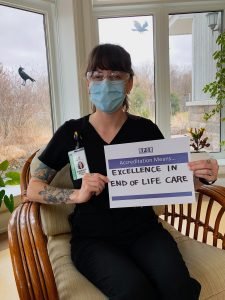 Bethell Hospice Board Chair, Lynn Dobson, commented on the process, "The HPCO review has resulted in a 3 year accreditation status and validated Bethell Hospice's pursuit of excellent person-centered palliative care. Achieving such a lofty goal during a pandemic makes the result even more meaningful and valued. These have been challenging times and the Bethell Team has clearly met the challenge and excelled. On behalf of the Board of Directors, I would like to acknowledge the excellent teamwork, devotion and dedication of our Leadership Team, staff and volunteers. It takes a devoted and capable team to achieve such an important goal. It is a pleasure to celebrate this achievement with our community."
Bethell Hospice is the only residential hospice serving all of Caledon, Brampton, and Dufferin County. Bethell Hospice also offers Community Programs throughout Brampton and Caledon, including in-home visiting, bereavement supportand psychosocial spiritual care. More information on Bethell Hospice programs and services is available online at www.bethellhospice.org
The post Bethell Hospice Receives 3-Year HPCO Accreditation appeared first on Just Sayin' Caledon.