The Nottawasaga Detachment of the Ontario Provincial Police (OPP) responded to an armed robbery call at a local business in Adjala-Tosorontio.
On July 17th, 2022, at approximately 6:25 a.m., Nottawasaga OPP received information that a local business on Highway 9 of Adjala-Tosorontio had just been robbed.
The male suspect entered the business and demanded money while showing a gun in his waistband. The victim immediately handed over cash and the male left prior to police arrival.
The male was observed heading Westbound on Highway 9 towards Airport Road on a motorcycle.
Police believe the suspect is armed and has been involved in other incidents. If suspect is observed, please do not approach. Please call police immediately.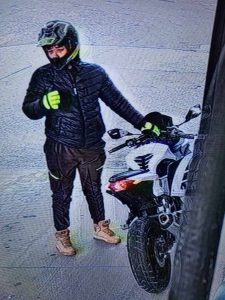 Suspect description:
·      Male
·      olive skin tone
·      20-30 years of age
·      black or brown hair
·      wearing a black puffer style jacket
·      black pants
·      tan/brown boots
·      black motocross helmet with yellow/green accents
·      black gloves with matching yellow/green accents
·      dark sunglasses
Vehicle description:
·      White and black Kawasaki Ninja (possibly a 300 model). No plate.
The post Armed Suspect Seen Headed towards Airport Rd and Hwy 9 appeared first on Just Sayin' Caledon.