The Town of Caledon is pleased to announce that Samantha Hoffmann has joined the Caledon Fire and Emergency Services team as Deputy Fire Chief of Community Safety.
Deputy Chief Hoffmann brings 27 years of experience and a variety of awards in fire safety to the role where she will be responsible for leading efforts to create a "Fire Safe Community".
"We are very excited to welcome Deputy Hoffmann to our team. Her breadth of experience will be a valuable addition to the Caledon Fire and Emergency Services team, and we are all looking forward to working with her," said Fire Chief Dave Forfar. "Deputy Hoffmann has made an impact wherever she has been throughout her career, whether it was in North York as a fire prevention officer, working at ground zero of the World Trade Center in 2001 with Toronto Fire, or launching fire safety awareness programs during her time with Barrie Fire. We know she will have a positive impact on our team and throughout our community."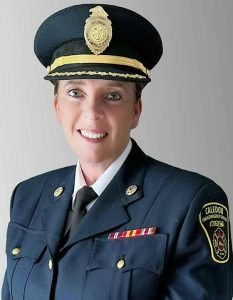 Samantha Hoffmann began her career in the fire service in 1996 with the North York Fire Department as a Fire Prevention Officer and Public Educator. Upon amalgamating with Toronto Fire, Samantha continued to learn and develop her skills and leadership, rising to the ranks of Acting Captain. After 15 years in Toronto, she joined Barrie Fire and Emergency Service in 2011. Throughout her 11 years with Barrie Fire, while rising to Acting Chief Fire Prevention Officer, she led Barrie Fire to become the first fire department in Ontario to have all firefighters trained in the National Fire Protection Association (NFPA) 1035 program as public educators.
Her fire prevention team received many awards in Barrie for their work in public education and community outreach. In 2014, Deputy Hoffmann was named the Public Fire and Life Safety Educator of the Year by the NFPA, making her only the second Canadian and first from Ontario to receive the award.
When she's not fighting fires before they start through public education and awareness, the mother of four spends time hiking, playing soccer in three different leagues, and playing ball hockey.
Welcome to the Town of Caledon and Caledon Fire and Emergency Services, Deputy Chief Hoffmann!
The post Town of Caledon Adds New Deputy Fire Chief appeared first on Just Sayin' Caledon.