On July 16, the Town of Caledon, together with community partners, hosted a ribbon-cutting ceremony to open a new, revitalized gazebo in downtown Bolton.
This project advances the goals of the Bolton Downtown Revitalization Plan – an initiative that came from Caledon's 2020-2030 Economic Development Strategy which aims to improve the downtown area for residents, business owners and visitors.
The gazebo at the corner of Queen and Sterne Street is a landmark in downtown Bolton and, after years of service to the public, was due for upgrades. The new gazebo fits the character of downtown Bolton and offers a safe and attractive gathering space.
"This is another exciting step towards reimagining Downtown Bolton," said Mayor Allan Thompson. "A big thank you to the Bolton Kin for their leadership in completing this project. We continue to work collaboratively to transform Bolton's historic downtown core to serve our residents today and in the years to come."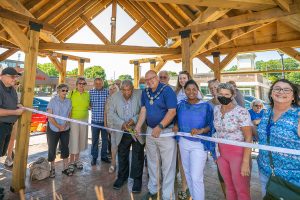 The Downtown Bolton Revitalization Task Force has been working towards the goals outlined in the Bolton Downtown Revitalization Plan since Council's adoption in April 2020. The Task Force recently unveiled Caledon's first public art installation – part of the Town's Public Art Program which is formally launching later this year. The Task Force has also supported community events including Ye Olde Tyme Christmas, the Bolton Bi-Centennial, Cinco de Mayo and the Taste of Bolton. On the horizon, the Task Force is working towards the opening of the Humber River Centre and undertaking a long-term reimagining of the public spaces in downtown Bolton.
Thank you to our partners at Bolton Kin, Bolton BIA and the Revitalization Task Force for their collaboration on this project.
To learn more about the Bolton Downtown Revitalization Plan and Caledon's 2020-2030 Economic Development Strategy, visit caledonbusiness.ca or email the Economic Development team at [email protected].
The post Ribbon-cutting Held For New Downtown Bolton Gazebo appeared first on Just Sayin' Caledon.