It was an idea that former Bolton Area Councillor Rob Mezzapelli and myself, as former Bolton Regional Councillor, had brought forward as part of our work on a newly-formed Graffiti Committee in 2013. Our thought was that you could protect a frequently-graffitied surface by covering it with "intentional graffiti".
Graffiti artists want a "clean slate" to display their images and it seemed logical to Rob and I that a surface already adorned would not be a candidate for more. We thought this would be a win/win, as the intentional graffiti would also fill the goal of  beautifying a public space with art. But while we succeeded with the establishment of a graffiti hotline, and opened dialogues with utility companies and others about shrink-wrapping their infrastructure as a similar deterrent, the "deliberate graffiti art" idea had not yet taken hold at the end of our term.
This year the light bulb came on again and the idea resurfaced (pun intended). Town of Caledon staff engaged the tremendously talented Blaze Wiradharma to paint a mural on one of the walls under the Queen Street north bridge over the Humber River and the results were nothing short of spectacular and inspiring.
Blaze says he picked up his first spray can when he was about 14 years of age.
"I was always interested in visual arts" he admits "but something about graffiti captivated me and really ignited my passion."
Blaze was born in Markham but grew up primarily in the Collingwood area. He eventually started to long for the big city. "I was lucky enough to get accepted into OCADU for Illustration which turned out to be my ticket to living in downtown Toronto. The graffiti scene in Toronto was a huge attraction for me as well."
In 2013, while in his third year of university, Blaze received his first commission for a mural. "It was a typography based piece for a waxing and hair removal salon in Toronto. I ended up getting this project through a classified ad on Kijiji" he recounts. "Years later, Kijiji still proves to be a great place to acquire new projects and clients" he adds.
Since then Blaze has done amazing murals in many locations and has become a very much sought-after artist.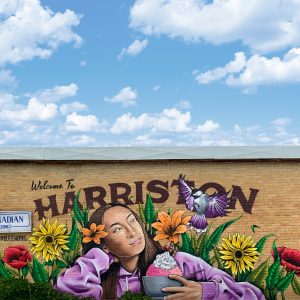 I ask if he has a personal favourite. "It's hard to pick a favourite mural, but if I had to choose I think it would be the mural of my sister in Harriston. My sister has been a huge part of my life for a long time, but that particular summer she was really there for me" he admits. "This was a really special mural for me to paint, and it also led to many other mural opportunities."
In fact it was via the Harriston project that Blaze was connected to Caledon and ultimately the Bolton project. I ask who came up with the design. "They didn't have a particular design in mind" he begins. "They were very open to my ideas, so I proposed the concept of a tribute piece to the Humber River and some of the wildlife that it is home to. They loved it, and had virtually no negative feedback regarding the design."
I asked Blaze to describe the process for implementing a mural project. "There are three major steps with regards to my general process for creating a mural. The first step, which in my opinion is the most important, is the Creative Brief. This is a PDF file that outlines the entire project, contains all the project information, and proposes the artistic direction through a series of images which I call a mood board. This helps communicate what I would like to create, so that my clients are clear about the direction and there isn't any miscommunication. Once this is approved and signed off on, the design step can begin. Usually this takes a week or two depending on how busy I am. Sometimes there are small revisions to be made. After the design has been approved, I can get to painting it. This is my favourite part of course!"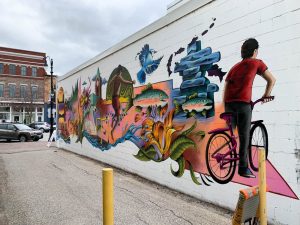 Materials, paints and colour choices are outlined in the Creative Brief as well. Blaze normally works with spray paint primarily, as well as contractor-grade exterior latex. The Bolton mural is also coated with Sherwin Williams Anti Graffiti Protective coating. This was done at the request of the Town of Caledon.
"Recently I've been very lucky and haven't really had to search for new projects. This year has been my busiest year yet, and 90% of the work I've received has been through word of mouth or returning clients. I'm incredibly grateful for all the people I've had a chance to create artwork for, and I'm glad they have been happy with my work."
Increasing demand for his work means that at the time of our interview Blaze was busy working on a live painting event for York Region, an extension of his Collingwood mural and,  as well, a large mural project in St. Thomas Ontario. And he has others booked for later this year.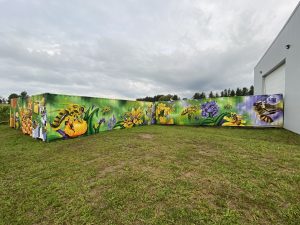 The remarkable artist is now also thinking about how he can transition his expressions from walls to canvas. "In the future, possibly this winter, I plan to work on more paintings. This is something that I've been meaning to do, but it's difficult when I'm so occupied creating murals. I hope to get a studio space and create a new body of personal work. This will be a nice change, as I rarely get to paint exactly what I want for my mural projects. I'm totally fine with this, as I understand that these murals have quite a few parties involved sometimes. That being said, there's something really nice about saying your own message through your art, and I look forward to being able to do that in the future."
We truly look forward to seeing more artwork in any format from this unique and creative artist!
If you would like to receive a quote from Blaze for a project you can email him at blazeworksart@gmail.com, or you can fill out a form on his website for Blazeworks Art and Visual Communications 
The post Bolton Art Installation Among Many Vibrant Murals Created by Blaze appeared first on Just Sayin' Caledon.