Photos credit: Trent Dilkie
Jessey the Elf delivered on his promise of being energetic and dynamic. C3 and the James Dick team prepared the C3 James Dick Quarry for a fun morning that ended with a new world record of 305 people doing a class at the same time. Wow!

The morning started off with four swim races (10k, 5k, 2k and 1k swims) followed by the new World Record Attempt.
"Our C3 team with the help of great sponsors like Benson Steel, Royal Containers, Nuvo Iron, Kinetico, RA Tech, and James Dick are really able to do some special things" said Barrie Shepley.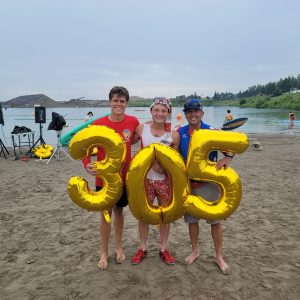 Shepley and Jessey the Elf have been planning this world record attempt for over two years and settled on July 1st as the date. Even the weather gods cooperated for the new world record.
"That was so much fun, I loved seeing all the smiling faces and the energy of the young and not so young enjoying the record breaking class' said Jessey the Elf.
You can view a video (Credit: Jason Fonger) here:
The post Caledon and C3 Set a New World Record on Canada Day appeared first on Just Sayin' Caledon.