The Town of Caledon Fire and Emergency Services department, added 16 new volunteer firefighters following a graduation ceremony on Tuesday evening.
"These new recruits have worked hard during their training program to not only complete the mandatory 250 hours of training, but to also earn their National Fire Protection Association (NFPA) 1001 certification," said Fire Chief Dave Forfar. "We are very proud to welcome these 16 new recruits to the Caledon Fire and Emergency Services team and look forward to working with them."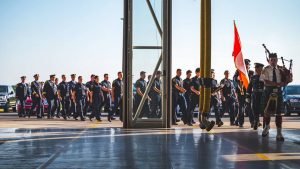 This graduating class, consisting of two women and 14 men, come from varied backgrounds, including:
Fire service families;
Military backgrounds;
Professional and junior sports;
Paramedicine, (hired full time by Dufferin EMS); and
Those with full-time careers that range from the automotive industry, business, forestry and paramedics.
"It's an exciting time for these new recruits, and I'm happy to welcome them to the Town of Caledon and the Fire and Emergency Services team," said Mayor Allan Thompson. "The value of dedicated, well-trained first responders has never been more apparent than it has been during the pandemic. Under Chief Forfar and the deputy chiefs, these new team members will thrive, while working to protect our residents."
Work begins immediately, as the 16 new recruits have been assigned to teams at eight of Caledon's nine fire stations.
The post New Volunteer Firefighters Join Caledon Fire and Emergency Services appeared first on Just Sayin' Caledon.