A lot of excitement is swirling in Caledon about next month's Caledon Premiere of The Long Rider. At the heart of the intriguing documentary is Brazilian-born, Bolton-raised cowboy Filipe Masetti Leite. And it was another Robert F Hall alumni Sean Cisterna who directed the film.
Just Sayin' Caledon approached Sean, a multi award-winning and renowned film director, to ask about what hurdles presented themselves in creating a winning documentary during a pandemic bubble.
"The challenge was whittling down 500 hours of raw documentary footage to 1.5 hours" Sean began. "That's a monumental undertaking in itself, and I have to credit my editor Lee Walker. She took my initial cut and just added so much sparkle to it. She's a talented artist who really understood the ups and downs of a journey like this. And my composer Edgardo Moreno also deserves credit. When you experience the film, you'll notice that the musical score goes on its own journey from north to south, incorporating instruments from the countries that Filipe travels through."
"We started the film in September 2020 or so, and finished in February 2022. So while we were all stuck inside our homes isolating, I was lucky enough to travel to 12 different countries via all this footage that was shot!"
"We only really hit the festival circuit a couple of months ago" says Sean, "but it's amazing to see how audiences are responding to The Long Rider. We made this film in a pandemic bubble, so to hear live audiences gasp and cry and cheer after working on this in a dark, tiny editing room is a filmmaker's dream."
Sean is definitely pleased see the film winning awards at South Carolina's Beaufort International Film Festival, Florida's Sunscreen Film Festival and Edmonton's NorthWestFest. "It's the icing on the cake" he adds.
"Screening in Mumbai was a highlight" he continues, "and I am really looking forward to our mid-June screening at Dances With Films in Hollywood where we'll be at the iconic Chinese Theatres."
Serendipity has certainly played a role in the film as well. Sean and Filipe were actually introduced by a drama teacher at Robert F Hall Catholic Secondary School. They had both attended the Caledon East school, although a number of years apart. It was an introduction that paid off as they quickly became friends whose lives continue to cross paths 15 years later.
The stars aligned yet again and The Long Rider was scheduled to open at Cineplex in Calgary the week before Filipe rides in on a horse at the Stampede along with Kevin Costner. "I could say I had something to do with that but it was all the team behind the Calgary Stampede" Sean admits.
The director's list of award-winning films is growing and I ask Sean whether he has a favourite type of film.
"I do love directing stories of young people setting out to achieve remarkable things. My Netflix movie Kiss and Cry is a story of a young woman who battles a one in 3.5 billion form of cancer, and my film Full Out is the story of a UCLA gymnast who mounts a comeback after a debilitating car accident with the help of her coach (played by Jennifer Beals). But, come on, there's nothing more Odyssean and seemingly insurmountable than Filipe's story!"
Editor's notes:
Residents of Caledon and neighbouring communities can purchase tickets for the Caledon Premiere screening here
The West Coast premiere of Sean Cisterna's award-winning feature documentary The Long Rider will be held at the 25th Dances With Films festival on Thursday, June 16th at 7:00pm at the iconic TCL Chinese Theatres in Hollywood.
The Long Rider is produced by Sean Cisterna's Mythic Productions Inc in association with MoJo Global Arts and NC2 Media. It is executive produced by Peter Hawkins, Arnon Melo, Aeschylus Poulos, Sonya Di Rienzo and Filipe Masetti Leite.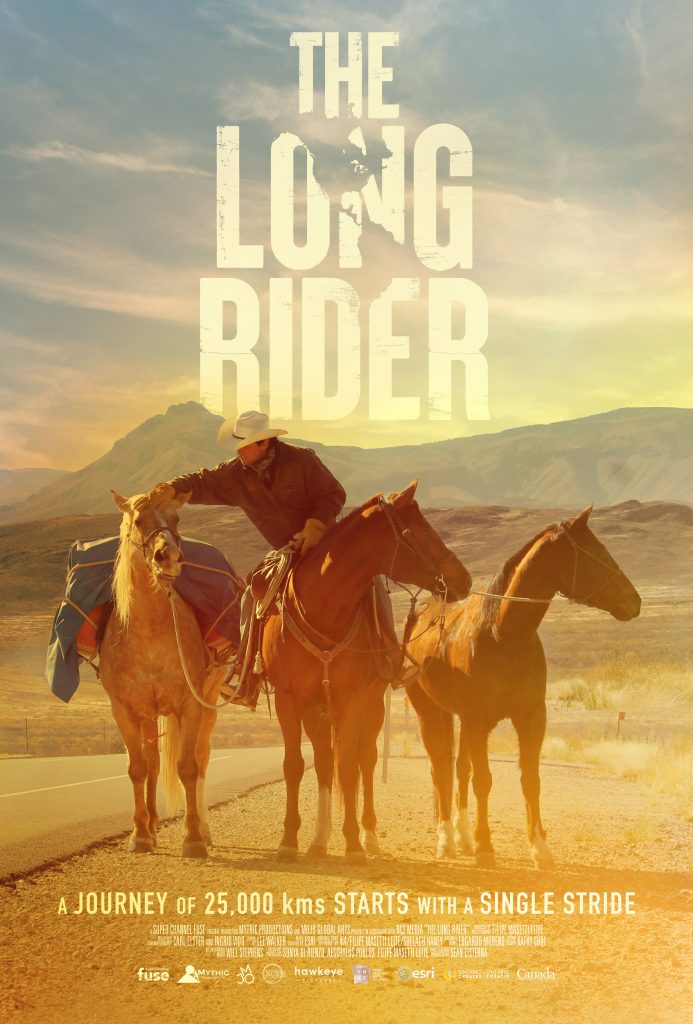 The post Filmmaker with Caledon Roots Screens at Dances With Films in Hollywood appeared first on Just Sayin' Caledon.