It's incredible how far dreams will take you.
As a young man living with his adoptive family in Bolton and attending Robert F Hall Catholic Secondary School in Caledon East Filipe Masetti Leite dreamed of becoming a long rider. That dream persisted and intensified as he went on to Ryerson University to study journalism. And then it happened. The dream became a goal. And a journey of 25,000 kms started with a single stride.
On July 8th 2012, 25-year old Filipe, along with his quarter horse Bruiser and pack horse Frenchie, rode out from the Calgary Stampede, headed to his native Brazil. That leg of his three-part adventure would mark the first 16,000 kms of a journey that can only be described as epic.
For the next 803 nights Filipe dreamed under a blanket of a million stars. He encountered scorching desert heat, freezing cold, drug lords, grizzlies, scorpions, and…love.
His remarkable odyssey – from Calgary to Brazil, then Brazil to Argentina, and finally from Alaska back to Calgary – has been captured and distilled into a documentary that is screening around the world including Hollywood and, awesome local news….Caledon!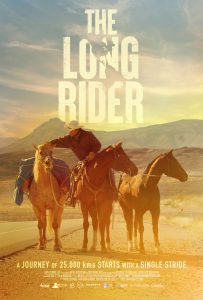 In February The Long Rider won the Audience Choice Award at the Beaufort International Film Festival in South Carolina.
On May 1st the film took home Best Documentary Award from the Sunscreen Film Festival in St. Petersburg, Florida.
Later in May it received not one but two awards at NorthWestFest, in Edmonton, Alberta. NWF is Canada's longest running documentary festival, and here The Long Rider won both Audience Award Best Canadian Documentary and Audience Award Best Overall Documentary.
The film is also screening at the Mumbai Film Festival and later in June at the Chinese Theatres in the heart of Hollywood during the Dances With Films Festival. Speaking of Hollywood, Filipe will be riding in the Calgary Stampede again this year, alongside Kevin Costner.
Caledon residents will be excited to hear that they can attend a special screening of The Long Rider on the evening of July 27th at Villa Caledon Inn in Caledon East. A fundraiser for Caledon Public Library this special event will give attendees the chance to meet Filipe in person as well as the documentary's director, Sean Cisterna. You can purchase tickets here.
Filipe and Sean, both Robert F Hall alumni, were connected by Rob Ciccotelli, who was known as Chicco to his students, and had been drama teacher to the pair, albeit several years apart. It was clearly a connection that was destined to be.
I asked Filipe whether it would be possible to identify a "most memorable moment" from his epic ride. The answer came easy. "It was meeting my wife, Clara Davel, in a small town in Patagonia, Argentina" he said.
After our interview I can remember Filipe saying "If you want something with your heart, your soul, your everything, then anything is possible."
Anything indeed. It's incredible how far dreams will take you.
Later this week JSC will publish our interview with award-winning director Sean Cisterna
The post The Story Behind An Award-Winning Documentary Screening In Caledon appeared first on Just Sayin' Caledon.