One of the benefits of Caledon's Barrie Shepley being an Olympic coach for 20+ years are the world class Canadian athletes he has become friends with. This Friday June 3rd, C3 Canadian Cross Training Club will be hosting two Olympic Gold Medalist on the C3 James Dick Beach in Caledon Village. 2000 Triathlon gold medalist Simon Whitfield and 1984 Canoe Gold Medalist Larry Cain will both be at the C3 James Dick Beach teaching paddling skills. "To have not just one but two Olympic Gold Medalists is crazy lucky for C3 and Caledon," said Barrie Shepley.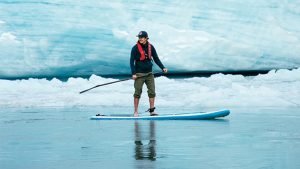 C3 has summer memberships at the C3 James Dick Quarry with programs that include Beach Volleyball, swimming, paddling and SUP Yoga. If anyone is interested in getting a summer membership for themselves or their kids, they should stop by and check out the facility or register online at https://c3online.ca/register.
The post Two Olympic Gold Medalists Coming to Caledon this Friday appeared first on Just Sayin' Caledon.