Bolton's Bicentennial will be celebrated on June 4th and 5th in the downtown core.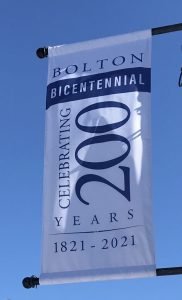 On June 5th, 1821, George Bolton purchased a 200 acre mill site, becoming the first settler in this part of the Humber River valley. His flour mill, built at the bend in what is now Mill Street, was the catalyst for the community of Bolton.
The Bicentennial celebration was posted a year due to Covid.
The Bolton Bicentennial Committee, with Albion Bolton Historical Society  members Heather Broadbent and Isabelle Bottoms as Co-Chairs are organizing special events some of which are still evolving.
So mark your calendars and plan to join in a Community Birthday Party marking Bolton's 200th Birthday!
Saturday June 4th:
A community celebration in the Courtyards parking lot
Caledon's Town Crier Andrew Welch opens the festivities at 10:00 am
Free Bicentennial Cookies available while they last
Music throughout the day with local musicians and members of the Caledon Concert Band
Bands from both Humberview Secondary School and St. MichaelCatholic Secondary School
Activities, games and crafts for kids
Artisan Market with local artists, bakers, crafters, creators and purveyors
Exhibits and displays from local community organizations
Both self-directed and directed Walking Tours
Tim Horton's special Bicentennial Donut
ALL of Bolton's wonderful shops and restaurants
…and a 12 foot Birthday Cake!
Sunday June 5th:
A tribute to Bolton's founder George Bolton, to the Bicentennial and commemoration of Bolton's Bicentennial Plaque 
1:00 pm to 2:00 pm at Founders' Park, at the bend in Mill Street. Seating will be available.
Wear comfortable shoes and plan to follow the Sandhill Pipes and Drums as they parade across the new Humber River berm.
You can learn more about the history of Bolton and view an illustrated timeline on the website
The post Celebrate Bolton's BiCentennial At Special Events In June appeared first on Just Sayin' Caledon.