Contributed photos: Solveig Voss and Chris Millar
Do the math and you will generally find that repairing an item will save you money over buying new. Despite that easily calculable fact, somewhere along the line, we seem to have succumbed to the convenience of "just buy a new one."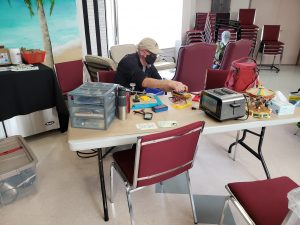 It is a throwaway mindset that has a huge impact on the environment. Factor in raw materials, energy, packaging, and shipping and it becomes crystal clear that extending the life of your possessions is a big step along the road to becoming a conscientious consumer.
But what if you don't know how to make that repair? What if something else caught your attention when mom or grandma were showing you how to mend? You just need to check out a Repair Café.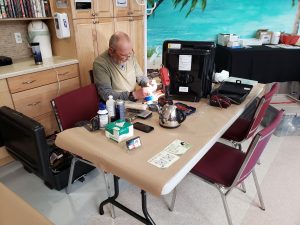 A Repair Café is a space where you can bring broken items and repair them yourself under the guidance of volunteers. Repair Cafés promote the philosophy of fixing and reusing items instead of throwing them away.
Depending on the nature of the required repair, skilled volunteers may offer to repair an item for you.
On April 30th well-known Caledon environmental group ecoCaledon held a Repair Café in Bolton. As with most community events the level of success, in part, hinged on volunteers. For a Repair Café "fixer volunteers" are key players. At this particular event strong, capable, patient volunteers were there to make sure good things happened.
That afternoon saw Debbe repairing crockery, toys and statues. Sarah and Sheilagh mended clothing. Chris hemmed pants, sweaters and fixed zippers. Paul repaired a merry-go-round music box, a kettle and a label maker. Anne made scrunchies from material scraps. Jim sharpened knives and agricultural tools. Cat repaired 2 traps for rescuing cats and a pressure washer nozzle.
The Repair Café normally provides some material and tools and is a great opportunity to repair things in a supportive atmosphere. Sometimes all you need is a little bit of encouragement and guidance! You can also bring items that you don't know how to repair and volunteers will see what they can do. You can check the flyer before future events to know what fixers are available and what items can be fixed.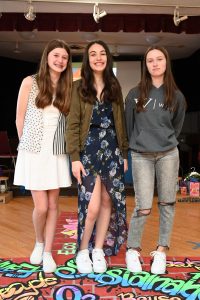 Rounding out the April event was the ReRun Fashion Show. Local youth came together on a mission to show that it is possible to dress-to-impress with second-hand pieces of clothing – whether it be through thrifting, up-cycling, or swapping with family and friends. The environmentally savvy young people realize that the fashion industry, from start to finish, has an impact on our planet and is estimated to account for 8% of global climate change.
Lucrezia Chiappetta, Co-chair of ecoCaledon, gave a big shout out to all the youth that helped plan and execute this successful event. "The MCs, runway designers, models, were all great. It was truly a youth-led initiative" said Lucrezia.
In true community spirit the Caledon Public Library brought books for all ages around sustainable living and participants were able to borrow books using their library card. They also brought the library's 3D printer and duplicated a button. Crafty Party Queen handled fashion show decor and brought repurposed snack boxes that were made into gift bags.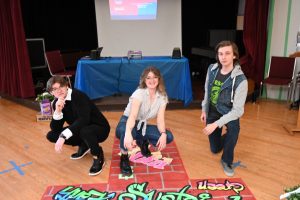 Members of ecoCaledon, fixer volunteers, youth from St. Mike's, Mayfield Secondary School and Allan Drive, and local college and university students are to be congratulated on the work that resulted in a successful event.
Watch JSC for an announcement about the next Repair Café which will be held this fall. Why not start setting aside items right now?!
The post What You Need To Know To Be Ready For Caledon's Next Repair Café appeared first on Just Sayin' Caledon.