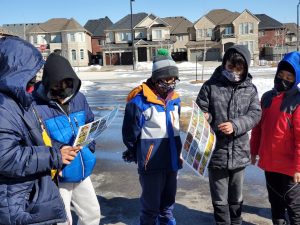 Toronto and Region Conservation Authority (TRCA) is delighted that efforts to boost walking and wheeling on the journey to school in Brampton and Caledon communities are continuing, thanks to renewed financial support from Ontario Active School Travel (OAST).
More than 1200 students across Brampton and Caledon are receiving free programming to encourage walking and wheeling to school in 2022.
Led by TRCA education staff, 'The Air, The Climate and Us!' program guides students through an investigation of the impact of active transportation on local air quality and highlights the multiple benefits to students and their families. Students measure air quality using electronic monitors and learn how to use lichen as a bio-indicator. Large stencil kits enable students to animate their routes to school with nature-themed chalk motifs.
Active Transportation means using people power to get where you are going and is important for everyone's physical and mental health. Resources for children in kindergarten to grade 8 are available on TRCA's website for students, parents, and teachers within the Region of Peel and beyond.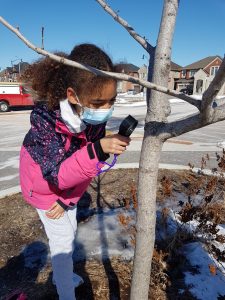 Resources include:
'Get moving for Climate Change' – an interactive online tool for Peel students to share how they travel to school;
February Winter Walk Month guides from the Region of Peel; and
Free downloadable Active Transportation BINGO cards using all the different modes of active transportation, so that the whole family is ready to get walking and rolling.
Visit TRCA's website for the Active Transportation resource page: https://trca.ca/peel-active-transportation/#resources
At TRCA, we have seen the use of trails dramatically increase as they are providing safe outdoor recreation and active transportation options allowing people to engage with nature for their physical and mental well-being. TRCA is proud to work with Green Communities Canada and the Government of Ontario in support of active transportation programming and encouraging walking and wheeling to school in 2022."

—Jennifer Innis, Chair, Toronto and Region Conservation Authority (TRCA) Board of Directors
To learn more visit ontarioactiveschooltravel.ca.
About Toronto and Region Conservation Authority (TRCA)
With more than 60 years of experience, TRCA is one of 36 Conservation Authorities in Ontario, created to safeguard and enhance the health and well-being of watershed communities through the protection and restoration of the natural environment and the ecological services the environment provides. More than five million people live within TRCA-managed watersheds, and many others work in and visit destinations across the jurisdiction. These nine watersheds, plus their collective Lake Ontario waterfront shorelines, span six uppertier and 15 lower-tier municipalities. Some of Canada's largest and fastest growing municipalities, including Toronto, Markham and Vaughan, are located entirely within TRCA's jurisdiction.
To learn more about TRCA, visit trca.ca.
The post TRCA Boosts Walking and Wheeling in Brampton and Caledon Thanks To OAST appeared first on Just Sayin' Caledon.