On Sunday February 20th families of Canadian Cross Training Club (C3) had a blast at their Winter Fest at the C3 James Dick Quarry in Caledon Village.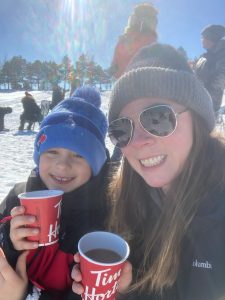 As is the case with all outdoor events, you get lucky or unlucky based on the weather.  And these folks were definitely blessed. There was lots of fresh snow, and a perfect sunny with blue skies Sunday afternoon.
"Without the James Dick organization we could not have done this great day" said C3 Head Coach Barrie Shepley. "We were assisted significantly as well by senior Caledon companies like Benson Steel, Royal Containers, Kinetico, Nuvo Iron, and RA Tech."
Shepley says there was a world class ice sculptor who crafted a polar bear and entertain the younger crowd.  "We had some great tobogganing, ice skating, snowshoeing and warm Tim Horton's for everyone.  It was all 100% donated time and effort by our C3 club and local sponsors.  We are so lucky to have such a dynamic community!"
The post Caledon's C3 Club Enjoys Winter Fest At James Dick Quarry appeared first on Just Sayin' Caledon.