– Contributed photos –
Earlier this month Caledon East teen Justin Merola had the chance to prove his worth as he and his team Caledon SC took on the Toronto Cherry Beach Red Wolves in the U-14 Boys Division final during the Ontario Indoor Cup games.
The Ontario Soccer Centre was host to teams from across Ontario as the annual Ontario Indoor Cup was wrapping up four divisions.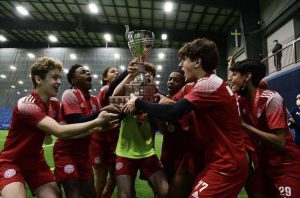 The U-14 Boys' game ended in a 0-0 tie so the teams headed to penalties. Merola made a key save that secured Caledon SC the victory.
The modest goalkeeper graciously defers to it being a team win though. Soccer is clearly a team sport he emphasizes. "If the kickers didn't score it would be a problem" he adds.
Soccer has been a lifelong interest for Merola, a student at St Cornelius, who says he started playing at around 3 years of age in his backyard with his older brother. He says that was followed by House League around age 5. He has been in U-14 for the last 4 years or so.
The teen says he loves the sport and that it makes him feel centred. He looks forward to when the game moves outside in late spring as he enjoys playing longer and having more room for movement.
I ask if he has any advice for young players. "Hard work pays off, be determined, and persevere. Don't give up." It's sound advice that is definitely working for Justin Merola.
The post Caledon East's Justin Merola Helps Team Win Big appeared first on Just Sayin' Caledon.