Our contributing author Skid Crease recently interviewed Janice Fisher, a Caledon Butterflyway Project Ranger, to get an update on the project's progress for JSC readers.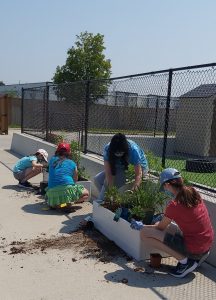 (SC) Protecting and enhancing habitat for pollinators is critically important for the biodiversity of our natural communities at this point in time. What impact has the Butterflyway Project made in our Caledon community?
(JF) As we are a group of volunteers, there is not a formal mechanism in place for measuring the impact made on our community at this time, but based on my own personal garden to which I added many many native plants this year, I think it is safe to say that we have added a significant amount of native nectar sources for our pollinators. I have never seen so many bees and so many different varieties as I did this year on my new native wildflowers. I believe we have also begun the very important work of creating awareness that will hopefully bring many more Caledon residents on board with the project in their own yards and as volunteers or supporters for community projects.
(SC) Describe the developments in the Butterflyway Project in Caledon since the story since first appeared earlier this year.
(JF) Back in June we were just getting started by planting 170 plants in coordination with CPL and TRCA at the Albion Bolton Community Centre. Those plants are thriving and have come so far from the seedlings they were mere months ago. When it comes to planting natives, the saying goes, "The first year they sleep, the second year they creep and the third year they leap!" In addition to that garden, with the support of $2000 from Bolton Rotary, we also planted at King Nursing Home, providing two metal planters complete with native perennials, a rain barrel and in ground gardens on either side of the entrance. We provided and planted two large planters at Family Tree Daycare for the staff and children to enjoy and care for.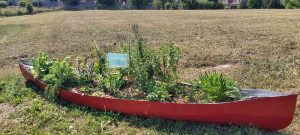 We were very fortunate in the request we put out on Facebook for old canoes that were looking for a new home. We received 3 canoes and 1 boat, all of which we have painted bright red and affixed a #Butterflyway decal to. One canoe is next to the new fire hall in Bolton and can be seen from Highway 50. Another is in front of the Caledon Fire Services building on Old Church Road. Both look amazing for their first year. We also added 75 native plants to an existing garden area at the Caledon Centre for Recreation and Wellness. Our final project of the year is at St. John Paul II Elementary school and involves adding to a pollinator garden and the donated boat, which will be filled with native plants as soon as construction on the new Kindergarten play yard in complete. All told, we will have planted more than 525 native plants this year alone.
(SC) What is the involvement of the Suzuki Foundation at this point?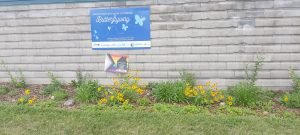 (JF) The DSF Butterflyway Project staff is continuing to hold educational workshops for us, including fall gardening and seed gathering, plus a talk with Douglas Tallamy about the Homegrown National Park Project. They are also collecting lists of gardens planted this year in order to create a map and provide official designation of Butterflyways to municipalities that qualify. We have submitted a list of 30+ Caledon gardens that will get us that recognition.
(SC) What are some of the species of butterflies that the Project has attracted thus far?
(JF) This is not an exhaustive list, but there have been many monarchs, black swallowtail, cabbage white, painted lady, mourning cloak, hummingbird clearwing, and more.
(SC) The data from the Centre for Biological Diversity has declared a "Monarch Emergency" with both eastern and western populations declining by over 90% due to economic pandemic pressures in Mexico (illegal logging in the Monarch Biosphere Reserve) and in the use of the glyphosate herbicide Roundup® to eliminate plants like milkweed for corporate agribusiness. They have predicted collapse and extinction of the Monarch butterfly in fifty years. How does a local community initiative like Caledon's Butterflyway Project inspire hope and change in the face of such huge international impact?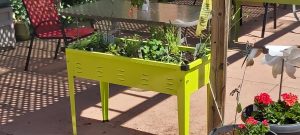 (JF) Although a project like this does encourage many people to feel like they want to rescue and raise monarchs, and several of us in Caledon did create protected habitats to save some of the caterpillars that we found, the impact from that is quite small. The bigger movement that we are hoping to promote, especially for the monarchs, is to have more milkweed plants growing in our yards, in our gardens, in our green spaces and as intentional plants on roadsides and other town properties and undeveloped spaces. We believe that our help in creating a path of their host plants to follow will help create a ripple in the push to save the monarchs. 
(SC) What are your goals for Caledon's Butterflyway Project in 2022?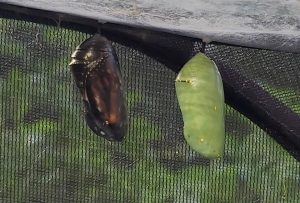 (JF) For 2022, we will start the season by assisting the Town of Caledon in having students of the schools on the north hill, as well as the residents, to help plant native plants in the area of the Columbia Way Stormwater project currently underway. We will also be adding the 3rd canoe to that space. The canoes serve as attention getters that create more awareness for the project and will hopefully inspire more of our Caledon residents to embrace native planting. I am also waiting to hear back from the By-law committee to see if we will have been approved for planting native wildflowers on our boulevards. We will be attempting to start many new native plants from seed this winter in order to hopefully have a big seedling giveaway (especially of milkweed). I am planning to apply for some more grant money so that we can buy more plants and get more native gardens in both public and private spaces. I would love to see local businesses embrace planting native plants on their properties or at least having a planter with natives. Every little bit helps. I will also be attempting to get local nurseries and garden centres to carry more truly native plants as the demand is certainly growing!   
You can follow along with the progress or contact Janice Fisher through Butterflyway Project Caledon's Facebook page 
Related stories:
Butterflyway: Bolton Woman Among Those Creating Corridors For Pretty Pollinators
Caledon Public Library's Butterflyway Garden Has Taken Flight
The post Butterflyway Project Winging Its Way Across Caledon appeared first on Just Sayin' Caledon.