Kimberley and Matt Medeiros moved to Bolton about 2 years ago. The young couple had fallen in love with the town when they had driven through it a short time earlier and they knew they wanted it to be home.
With two children they had committed to the idea of keeping a regular date night, just a few hours for themselves, once every week or two. It was on a downtown walk while on one of their initial date nights that they realized something was missing. "There just wasn't somewhere for us to wander in and sit and enjoy a glass of wine and share some food," says Matt.
The couple inquired among friends and acquaintances to see where people were going. There were lots of suggestions for places in Orangeville, Alliston, and other parts of Caledon, but there weren't any for Bolton.
"That surprised us because the downtown is such a beautiful little area," Matt adds.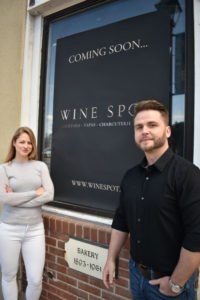 The pair had initially met while working in the restaurant industry and always knew that karma would lead them down this path again. When Covid hit in 2020 like most people Matt and Kimberley found there was lots of time for reflection. They re-examined what they really wanted to be doing with their lives and that introspection led to the birth of an idea.
With a solid business plan in hand the couple started their search for the perfect location. Meanwhile the pandemic had begun wreaking havoc on weddings and other special occasions. Lots of people were struggling to find arrangements that would let them proceed with their events. In an inspirational show of entrepreneurship, the Wine Wagon Mobile Bar was born. The Wagon is a 14-foot vintage-style custom built bar and bartending service ideal for outdoor parties, weddings, events, and corporate pop-ups. Equally attractive and functional this trailer is now turning heads wherever it rolls.
With Wine Wagon "holding down the fort" the search for a bricks and mortar location carried on and recently ended at 23 Queen Street North in downtown Bolton. At about 900 square feet of space the Wine Spot will be airy, comfortable and welcoming, the perfect spot to drop in with a date or family and relax with a plate of shareables.  Tapas and charcuterie will reign over an appealing menu that pairs perfectly with a cold drink, glass of wine or custom cocktail.
Matt is a trained mixologist and he has a unique cocktail menu in the works that will, among other things, pay homage to the prohibition era. He is especially proud of the exciting wine list he is putting together.
Everyone has a role, with Matt heading up the bar, his sister Chantelle as Head Chef, while Kimberley will be working on the operations and administration.
"We truly believe in supporting local so everything we can we are sourcing locally, from the cured meats for the charcuterie to the upholstery for the seating," explains Matt. "Speaking about décor we are in a great historic building so we are trying to keep a lot of the vintage elements and just mix a bit of modern in."
Matt believes the restaurant will showcase how the elements of a successful eatery play off each other. "The kitchen is the heart, the bar is the soul" he says with conviction.
The Medeiros are on track to open Wine Spot as early as July if the current pandemic situation allows. While some people have expressed concern over the timing they feel differently.
"We really want to become an anchor in the downtown for the community," explains Matt. "And if we can succeed now, and weather this storm, we can weather anything."
Matt and Kimberley will be hiring upon opening so if your strengths and skills relate to the following positions email your resume to matt@winespot.ca   For front of house: Bartenders, Mixologists, Servers, and for back of house: Sous Chef
Read more about the Wine Wagon Mobile Bar
The post Date Night in Downtown Bolton? Coming Soon! appeared first on Just Sayin' Caledon.