As a newly-minted graduate of the Gemological Institute of America Anne-Marie Warburton was hoping to open up a studio in Collingwood at Blue Mountain. But, life had other plans, and after the lease fell through twice she made the decision to look closer to her home in Hockley Valley. What she discovered was the Alton Mill.
"I was all by myself on the ground floor of the Mill for the first few years" she remembers. "A crazy thing to do for a retail shop.  It was really my passion and enthusiasm that saw me through those early years."
That passion and enthusiasm sustained her so well in fact that today, 14 years later, Anne-Marie's well-known Gallery Gemma Jewellery remains a core business at the Alton Mill Art Centre.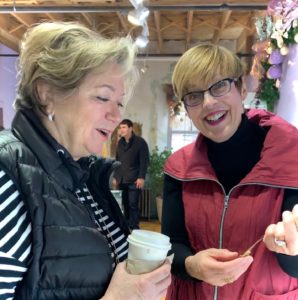 When Anne-Marie had initially gone back to school she says it was to "change her life". She had been strong in sales and marketing but not passionate about it. She did have a passion for jewellery. So she was thinking than an education in fine jewellery would enable her to sell other people's jewellery and perhaps dabble in her own.
But again, life had other plans. It turned out that what the new jewellery designer could create was exactly what people wanted, so the desire for her own studio lead the way.
I asked where she finds the inspirations for her designs. "When I am working with a client, inspiration comes from our discussions, learning about them as a person, their interests, the important moments in their life" she says. As an artist designing a custom piece for someone Anne-Marie finds it "a most wonderful and interesting experience to be trusted to create a custom piece for a client and then have an idea pop into my head that they will tell me is perfect for them."
She adds "When I am working on designs for inventory for the gallery, one of a kind pieces or collections, my inspiration comes from nature, just think about the beauty around us in Caledon, and from architecture, colour, words – inspiration really seems to be all around me."
I wonder whether clients sometimes come in with specific ideas or designs in mind? "Yes, of course" she replies "and then my job is to ensure that they can be wearable pieces of jewellery."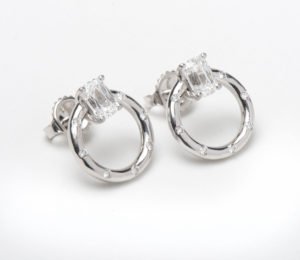 As for the jewellery inventory for sale at the studio Anne-Marie says that it is always changing. "In addition to creating custom orders and one-of-kind pieces we represent designers from both North America and Europe.  Normally (pre-Covid closures) we have a lot of tourists and day tripper visitors. Our inventory starts at about $20 for a piece of fun jewellery, so that they can pick up something wonderful to remember their visit."
"But unique one of a kind jewellery really best describes what we sell – it is what women, especially women, want as self-expression. We like to think of ourselves as "Dream makers". The jewellery that expresses who you really are is either immediately available, or we will create it for you. Our custom work spans a wide range of budgets."
The studio also has a full line of engagement rings, wedding bands, and as well as one of a kind rings. "We have lots of sterling silver, gold, a little platinum and pearls, gemstones and diamonds. We follow the fashion trends but not fads." The studio also does jewellery repairs, and can restring and knot pearls.
Anne-Marie points out that jewellery really is something that is lasting and stands the test of time. "You would be amazed at how long people keep special pieces of jewellery given to them decades ago.  We often take those family treasures and remake them into something new, more in keeping with what a client might want to wear today, rather than having it sit in a jewellery box or safety deposit box."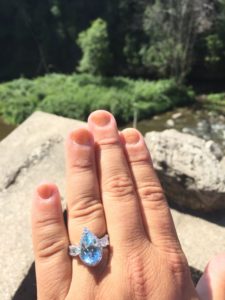 While most sales were instore prior to the pandemic striking Gallery Gemma has learned to work through Zoom rather than face-to-face meetings. As well you can go to their website and see their inventory for curbside pick-up and home delivery in the area.
Anne-Marie says that when lockdown protocols end she and her staff Natalie and John, as well as all of the artists at Alton Mill will continue to take the utmost care for the health and safety of their visitors. Speaking about the Mill she refers to it as a national treasure and that she feels honoured to be able to have her gallery located there.
Asked about hopes for the future Anne-Marie mentions that  "We are building our next level website right now so that people can shop whenever they like from the comfort of their home.  Each year I go and study with a master goldsmith somewhere in North America to gain new skills.  Now with Covid the classes are done via Zoom, and although it is not as much fun as travelling, you can learn a remarkable amount from a master  online. We just want to just get better and better at doing what we do, building trust, delivering on people's jewellery dreams and becoming the destination of choice in our community and beyond."
Gallery Gemma Jewellery is inside the Alton Mill Art Centre, 1402 Queen St. W. Suite 102, Alton, On. Normally open Wednesday through Sunday and most holiday Mondays 10am to 5pm each day.  Right now under lockdown, they are available via email: [email protected] or phone 519-938-8386. Find them on Facebook @GalleryGemma and Instagram @gemma.jewellery
The post Gallery Gemma: A Little Sparkle Goes A Long Way appeared first on Just Sayin' Caledon.